Indonesia, under the leadership of Jokowi have decided to conduct the largest public sinking of foreign vessels to date.
During the celebrations for the 70th year of the Indonesian Independence on August 17, the Indonesian Navy (TNI-AL) intends to blow up 70 foreign ships, which were caught earlier by the local authorities poaching the Indonesian waters.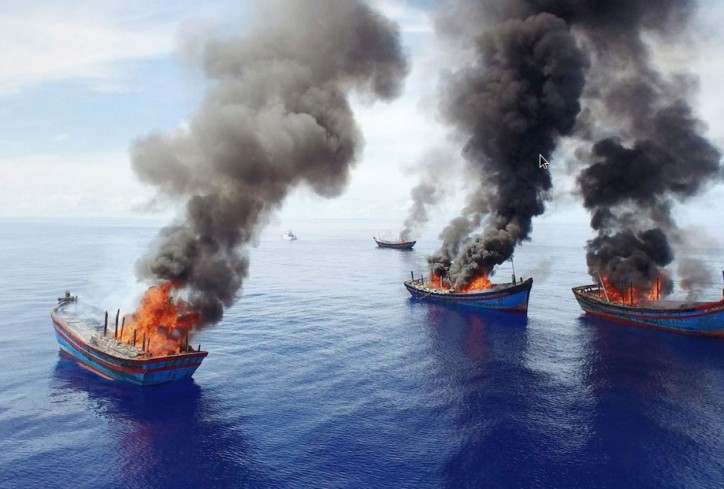 The announcement was made by the TNI Navy Chief of Staff, Admiral Ade Supandi, on August 7th shortly after his inauguration in the Pontianak navy base.
The taken measures by Jacarta against the illegal fishing in the Indonesian waters will hardly surprise the public, after former country's President Joko "Jokowi" Widodo has already launched a fiery crackdown on unauthorised fishing in the region. According to him, Indonesia faces serious problems in protecting its marine environment and sea resources, the intruding of which is bringing losses of over $20 billion each year.
Because of the situation in the region, the Jacarta policy for massively public sinking of offender-ships from neighboring countries was undertaken over the last few years.
This appears to be the largest act of destroying of foreign illegal fishing boats under Jokowi administration thus far. There was another one on May 20th, which took place to commemorate the National Awakening Day, then 41 foreign vessels, including the first Chinese vessel were sunk.
According to the director general of marine and fisheries natural resources supervision, Asep Burhanuddin, since the beginning of August 2015, his office had handled at least 92 cases of poaching. He also commented that the poaching in the Indonesian waters is not an act perpetrated by foreign vessels alone, In the number given by the local marine administration are included 41 Indonesian-flagged vessels too.
The majority of the foreign fishing ships are Vietnamese, 33 ships in total, while the rest are 8 Philippines-flagged, 5 from Thailand and 5 from Malaysia.