Joint "war games" training exercises took place in Iran's territorial waters on Tuesday, involving Russian Navy and Iranian warships.
Both sides have shown close cooperation in the military partnership during the drills, involving destroyer and missile ships from Iranian side and warships from Russia.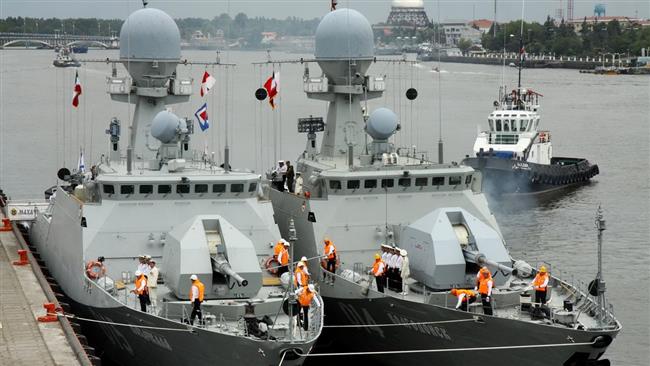 Image: The two Russian warships of Volgodonsk and Mahachkala docked at the northern Iranian port city of Anzali on August 9, 2015. (IRNA)
Admiral Ahmad Reza Baqeri, Commander of the Iran's fleet in the Northern Gilan province said for a local media prior the drills that part of the military training will be the Iranian destroyer Damavand and both missile ships, Joshan and Paykan. He also added that the drill will be participated by 200 members of the Iranian Navy.
Russian warships, which took part in the drills were Makhachkala and Volgodonsk, which docked in the port of Anzali on the Caspian Sea (North Iran).
According to local media, after the completion of the drills, both Russian ships are to depart Iranian waters and head for Azerbaijan.
The support of Russia has a key role for Iran. At the end of July, a senior Russian official said the advanced S-300 anti-missile system is being upgraded prior to delivery to Iran.
Up to the moment the sale of the advanced anti-missile system has been delayed under the pressure of the West, because according to the military experts it could prevent an air strike on the Iranian nuclear program. With the latest military cooperation with Iran, Russia gives indications that it may transfer the weapon technology in any case. In the beginning of September, Iran is preparing to unveil its own version of the anti-missile system, as an Iranian development of the technology.
In an effort to increase its military influence in the world and the region, Iran puts more focus on the activity of its fleet, as a confirmation can be mentioned the major naval exercises in December 2014.
The Iranian Navy has shown a hostile stance against US-flagged ships. At the beginning of May 2015, Iranian warship fired upon and seized a foreign cargo ship in international shipping lanes.