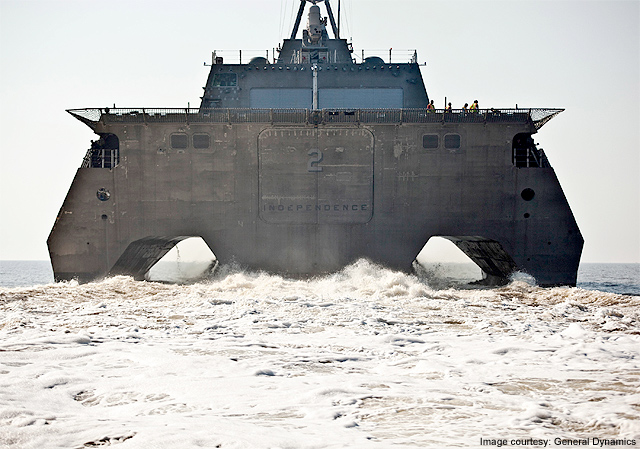 The United States Navy plans on doubling its current Littoral Combat fleet by February of next year. The first entry in a total of four newbuilds, the USS Jackson, was successfully delivered on August 11th at the Austal Shipyard located in Mobile, Alabama.
The other three vessels – the USS Milwaukee (LCS 5), the USS Montgomery (LCS 8) and the USS Detroit – are to be respectively delivered in October, in December and in February of 2016.
The USS Jackson serves as the first LCS vessel constructed by Austal and comes along the lines of a ten ship, block-buy contract with a total worth of USD 3.5 billion. It is also the first of seven LCS vessels that are currently being built by Austal.
The Montgomery is going to soon be trialed before being delivered in December and the Gabrielle Gifford (LCS 10) recently went through its christening ceremony. The Charleston (LCS 18) and the Tulsa (LCS 16) are being built at the moment. Omaha (LCS 12) is going through the necessary preparations and should be launched in the fall. The Manchester (LCS 14) is being assembled and construction regarding the Cincinatti (LCS) has been scheduled to begin later on this year.
"It is a major milestone for us to be able to deliver our first ever LCS in the role of prime contractor. I am enormously proud for being part of the team of these amazing men and women who contributed day-in and day-out for this to be possible. This is an extraordinary vessel constructed by some extraordinary people," commented Graig Perciavalle, Austal President.
The USS Jackson is going to go through trials in Florida's Mayport and once cleared it is to be transported to San Diego. Its other four sister ships USS Independence (LCS 2), USS Freedom (LCS 1), USS Coronado (LCS 4) and the USS Fort Worth (LCS 3) are based in San Diego.