Deltamarin introduces the first entry in its series of cutting-edge container carriers, A.Delta2300. The brand new design was created thanks to thorough research operations and development work aiming to establish the best possible design regarding the aspects of cargo capacity, fuel economy and flexibility. It offers a flexible platform which can easily be adapted to fit the various requirements of the company's customers.
AVIC Weihai Shipyard has offered its support for all development-related procedures regarding construction friendliness. DNG GL has reviewed the design in terms of its compliance with the latest industry rules and practices. Deltamarin as well as AVIC Weihai Shipyard are members of AVIC Group, which ranks amongst the Fortune Global 500 corporations.
"This container carrier design's overall efficiency level and flexibility provide owners and operators with a swift solution for any of their potential future transportation-related needs," comments Mr Vesa Hamarila, Deltamarin Sales Director.
The A.Delta2300 has a 2,322-TEU cargo capacity via its five cargo hold units and its deck. Due to the increase of cargo hold breadth, there is a significant improvement regarding stability in fully laden conditions. Along with the ballast-free approach, it results in an increase of the utilization rate by approximately 73% (1,700 TEU) regarding nominal container intake in homogeneous loading conditions at scantling draught transporting a 14t TEU container unit. The intake can also be optimized in accordance with a particular cargo profile and improved further by considering the specific route loading factors.
The A.Delta2300's high flexibility provides for pallet-wide container stowage and that of three tiers of high cube container units in the vessel's cargo hold without having to lose any container slots. Given that there is a high number of reefer plugs, smart stowage is also made possible and unnecessary container movements are reduced to a minimum. All of the mentioned features contribute for establishing fluent and efficient stowage, which results in cutting down on time and expenditures.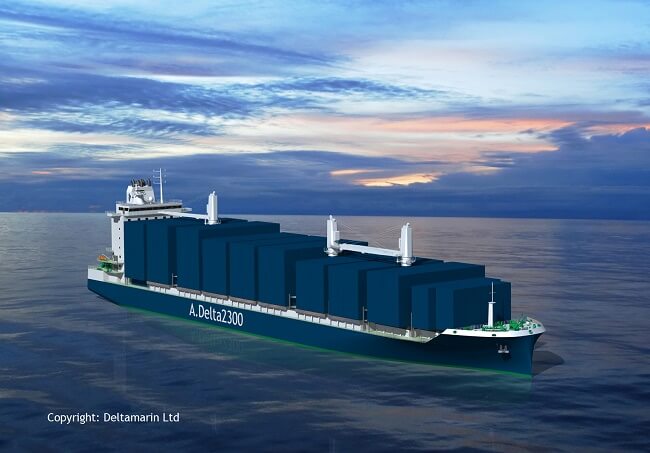 The A.Delta2300's hull form was thoroughly researched before being developed in order to make sure that it offers low resistance as well as high propulsion efficiency. The process included a large number of CFD calculations and three series of model tests that were carried out at the Hamburg Ship Model Basin (HSVA). Due to the extensive research efforts the vessel's requirements call for only low power at the design speed level in comparison to present reference designs.
The vessel's day-to-day fuel oil consumption has been lowered to 44t per day when operating at a speed level of 19 knots, thus managing to provide a superior level of fuel efficiency – 0.033 t/TEU/day. Thus is achieved an astounding low ratio between deadweight and TEU – less than 16 DWT/14t TEU, which is usually achieved only in bigger container carrying vessels. The efficiency itself contributes for decreasing the EEDI (Energy Efficiency Design Index) value down to roughly 37% below the reference line of the IMO, thus being in full compliance with Phase 3, which is set to enter force in 2025.
The A.Delta2300 provides additional optional features such as a flexible reefer plug number, LNG readiness, scrubber/SCR implementation, shaft generator PTO/PTI, several ice classes and gearless design. Additionally, there are stretched derivative designs – respectively the A.Delta2500 and A.Delta2600.
The A.Delta2300 design comes with an overall length of 188.60 meters, a 30.95-meter breadth and a draught of 8, 75 meters. It has 500 reefer plugs and a deadweight at 10.0 meters of 26,580 tons.