Ireland-based Ardmore Shipping Corporation has announced the delivery of its latest newbuild vessel, the Ardmore Seawolf.
The new-building, which is the third in a series of four new eco-vessels, equipped with various fuel-saving systems, was delivered by SPP Shipbuilding from Korea's Sacheon shipyard on 13th August 2015.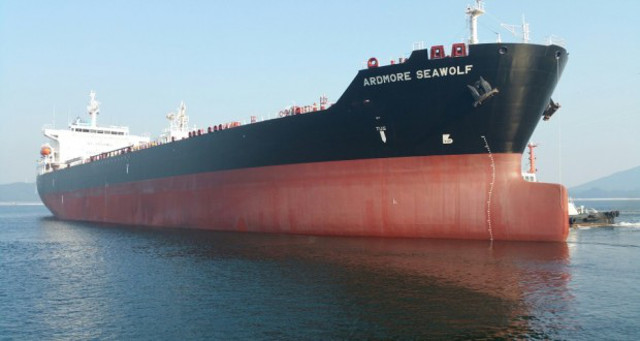 Image: Ardmore
The Ardmore Seawolf is a 49,999 DWT IMO 3 chemical and oil products tanker and as a new addition to the current Ardmore fleet, it will increase the number of vessels in service to 22.
Technical management of the Ardmore Seawolf will be provided by the Hong Kong-based Univan Ship Management, part of the Anglo-Eastern Univan Group, which is in the top three global ship management companies.
Mark Cameron, Ardmore Shipping's COO, said:
"We are pleased to welcome the Ardmore Seawolf to the Ardmore fleet, where she will join her sister ships, the Ardmore SeaLion and Ardmore SeaFox. We extend our sincere thanks to SPP Shipbuilding for their diligence, commitment and excellence throughout the build process. The addition of the Ardmore Seawolf demonstrates our constant commitment to growing Ardmore's fleet through the addition of state-of-the-art, high quality and efficient vessels to our fleet. With an average age of under four and a half years, the Ardmore fleet is among the youngest in the industry."
On the delivery ceremony, the new-build tanker was presented by the company officials as a high quality eco-design Ardmore vessel, equipped with a variety of fuel-saving measures, including Skysails vessel optimization software, and offering the highest standards of fuel efficiency and operational performance for our customers.
Ardmore Shipping is expecting the delivery of the last vessel in the series by the SPP Shipbuilding in the final quarter of 2015.