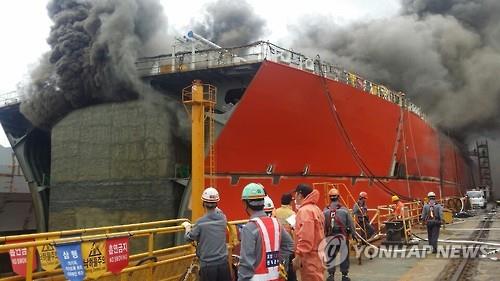 Two workers died and seven others were injured after the incident on Monday, August 24th when a fire broke out in Daewoo Shipbuilding & Marine Engineering's (DSME's) shipyard in Okpo, South Korea.
According to information released by Geoje Fire Station, a 39-year-old worker was found dead at around 5 p.m. local time in a fuel tank of the 84.000-ton under construction liquefied petroleum gas (LPG) carrier located at Okpo Shipyard on Geoje Island in the South Gyeongsang Province.
Fire authorities reported that the body of the victim has been discovered about seven hours after the fire broke out at around 9:44 a.m. local time. The body of another 30-old man was found at around 6:00 p.m.
According to Fire authorities 47 workers have been working at the time of the accident.
"It seems that the two did not make their way out," a Daewoo official said.
Preliminary investigation shows that the fire was most probably caused by a welding spark inside the ship that was being constructed at one of the Daewoo's building docks in the yard.
Seven workers were injured and hospitalized for treatment after inhaling fumes from the fire, while the rest 38 are confirmed to be unharmed.
The shipbuilding company informed that has set a procedure for compensations and funeral arrangements with the victims' families.
Related News: 7 people injured in a fire at Daewoo Shipbuilding dock on two VLGC