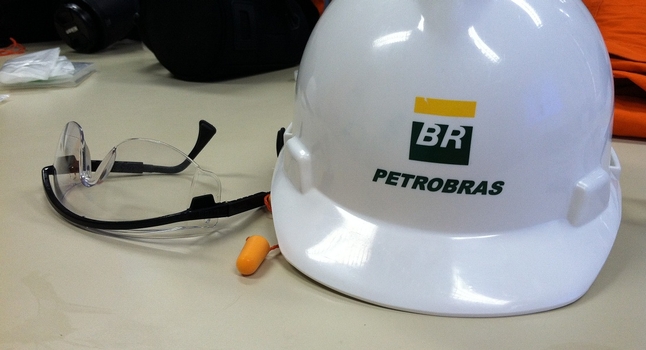 A Brazil-based Petrobras depot employed for the purposes of treating fuel for ocean-going vessels had to deal with a serious incident on Wednesday, as its heating unit exploded and killed two workers.
The blast and the subsequent fire broke out at roughly 10 a.m. (13:00 GMT) while employees were conducting maintenance procedures on the said heating unit, as stated by the BR Distribuidora SA press office, Petroleo Brasileiro SA's fuels distribution unit.
The heating unit was employed for raising the temperature and reducing the bunker fuel's viscosity (a heavy and sludgy refined petroleum product that resembles heating oil). When the fuel is heated it becomes easier for loading aboard vessels.
The fire that broke out at the Port of Tubarão's naval-fuels depot near Vitória, Brazil was handled and subdued by on-site firefighters and does not pose any immediate risk to anybody in the vicinity, as commented via a statement by BR Distribuidora. The dead workers' names were not made immediately available to the public.
The fire in question serves as the third instance this year that a fatal accident has occurred at a facility owned or operated by Petrobras in the Espirito Santo state of Brazil, which accounts for being the 2nd-highest producer of oil and natural gas in the country (Rio de Janeiro being the 1st). In total the accidents have cost the lives of 13 workers and injured a minimum of 26.
The current accident occurred only a week after Petrobras' board issued its approval for a plan regarding an initial public offering of up to 25% of the stock in BR Distribuidora, the biggest service-station operator as well as fuel distributor in Brazil.
The vote for approving the sale was heavily opposed by Murilo Ferreira, Board Chairman, who commented that the company must greatly improve its management before going through a potential set of such kind.
Ferreira also serves as Vale SA's chief executive officer. Vale SA is a mining company that is responsible for owning the largest port of Brazil when accounting for tonnage moved, the Port of Tubarão.
Tubarão's fuels unit provides the necessary bunker fuel supplies needed by Vale for shipping iron ore at the port.
Back in February, there was an explosion that took place aboard the Cidade de São Mateus offshore oil and natural gas production vessel that is operated by the Norwegian BW Offshore Ltd on behalf of Petrobras. The incident resulted in the loss of nine lives and injured another 26.
In July, two workers on a Petrobras shipping unit Transpetro –operated pier were killed when scaffolding at the site, in Aracruz, as well as in Espirito Santo state, collapsed right into the water.