LR lashing specialists employ cutting-edge analysis methods for enabling ultra-large container ship owners to extend the cargo-carrying capabilities of their vessels LR is to class the biggest-ever container carriers in the world – led by a contract that was agreed upon recently regarding the overseeing of the construction of six ultra-large container ships (ULCS) of over 20,000 TEU.
Four 20,150 TEU ships are to be constructed by the Japan-based company of Mitsui O.S.K. Lines (MOL) at Samsung Heavy Industries' (SHI) South Korean Geoje Island shipyard, while two vessels of 20,050 TEU are being constructed for the purposes of serving Shoei Kisen Kaisha along the lines of a long charter to MOL at Shoei's Imabari Shipbuilding affiliate company at the Japanese Saijo yard.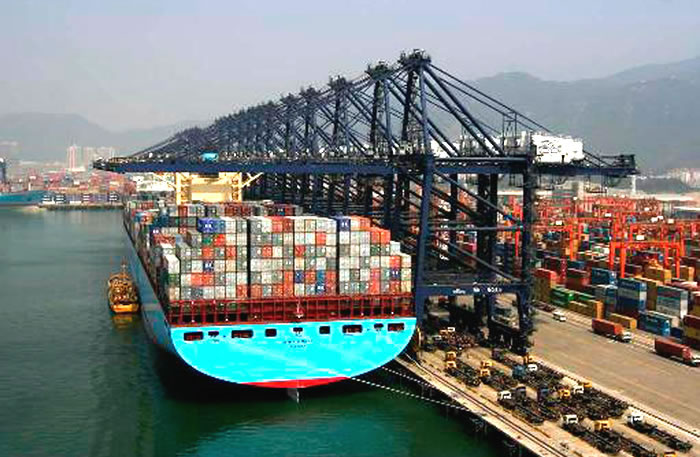 Image: seatrade-maritime
The ships have been scheduled for delivery in 2017 and are to be appointed for operations on the Asia-Europe routes.
This major order serves as the leader of a potential long list of contracts that LR is discussing at the moment with leading global shipowners and operators regarding the approval and classification of vessels exceeding the 20,000 TEU mark.
Given their thorough expertise, experience and technical know-how regarding container carriers, container carrier delivery and the current market situation, the technical teams now have the ability of producing a series of proposals and guidelines for the safest and most cost-efficient methods to stow and lash container cargoes.
"The technical teams we appointed have carried out detailed investigations into the matter of the rising heights and weights of the container stacks that current ULCSs can transport and came up with new guidelines in order to aid designers as well as masters and owners in their efforts of handling these ever-growing cargoes," LR said.
Among the most significant finds was the one based on vessel speed. The research carried out by the specialist teams demonstrates the fact that the sailing speed displayed by a given vessel has a major and predictable effect regarding rolling motions which is a crucial factor when it comes to cargo transportation. So specialists decided to not design container stows as if a vessel is operating at maximum speed in the roughest of conditions in the Pacific or Atlantic oceans, but instead went with the option of producing a methodology that uses as basis the combination of vessel speed and stability and the prevailing waves' height and direction.
Another essential factor is lashing twistlock development. Operators that employ the most modern fully automatic twistlocks (FATs) are going to experience the advantage of being able to secure their respective cargoes with minimum intervention from the stevedores. Also provided with high lashing bridges, they are going to manage safely carrying stacks of 10 or more container tiers aboard.