France's CMA CGM Group container line accounted for a net profit amount of USD 156 million regarding Q2, up 66.7% in comparison to 2014's Q2 net profit of USD 94 million, with greater volumes transported and a unit cost dip that helped offset a drastic drop in freight rates as well as industry overcapacity.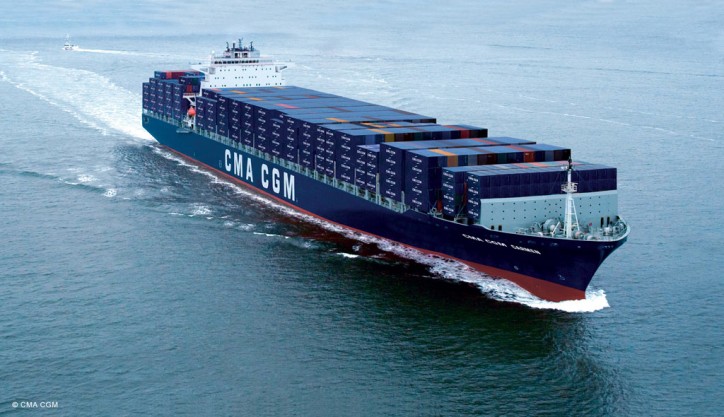 Second quarter volumes rose up by 6.2% y/y, up to a 3.3-milion-TEU mark, compared to global market volume growth in the field of 1-2%. The Q2 unit costs of the company dropped by 10.9%, which resulted mainly from dropping oil prices. Average revenue per container transported, however, went down by 7.8% resulting in a 2.1% drop regarding quarterly revenue, which was in the amount of USD 4.11 billion.
The fleet of CMA CGM demonstrated a 8.6% growth level in comparison to 2014's second quarter, going from 430 ships to 467. By introducing 37 new boxships, the carrier's carrying capacity was increased by 12.2%, going from 1.589 million TEU during 2014's Q2, to being 1.783 TEU at the moment.
Core EBIT went up by 59.3% in comparison to 2014's Q2 to USD 325 million, as the lower unit costs of the company managed to outpace the average revenue per container carried decline.
During 2015's first half, carried volumes rose by 8.2% up to 6.4 million TEUs, revenue levels were at USD 8.1 billion and net profit was almost three times higher (USD 562 million) in comparison to 2014's first half.
CMA CGM's expectations are for freight rates to maintain their volatile stance regarding Asia-Mediterranean and Asia-Europe lines for 2015's Q3. Due to that, the company is going to continue adjusting its capacities.
In the weeks to come, CMA CGM is to take delivery of one 9,300-TEU ship, one 2,100-TEU ship and two vessels of the 18,000-TEU range, including the CMA CGM Bougainville, which is to become the biggest container carrier sailing under France's flag.