LR has managed to acquire a contract for classing the biggest heavy lift crane vessel (NSCV) in the world for the Dutch Heerema Group. The semi-submersible vessel is going to be built at Singapore's newly opened Sembcorp Mega yard.
According to schedule, the duel-fuel LNG and MGO ship is to be delivered in 2018's Q4 and is going to be a major asset when regarding the offshore market as well as a leading player in offshore facility installation and decommissioning operations. It comes following another major Heerema project, it being the delivery of the LR-classed Aegir deepwater construction vessel (DCV) that took place back in 2013.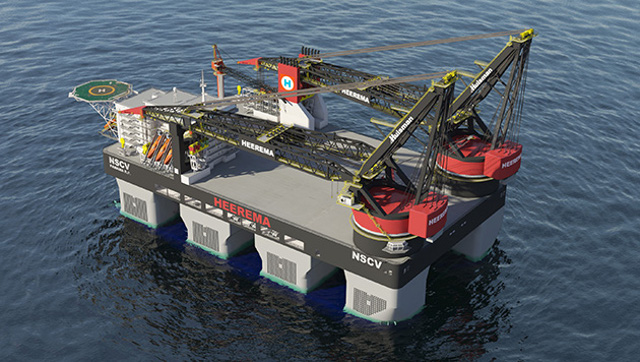 Image: LR
The NSCV project has an approximate contract value of USD 1 billion and is further strengthened by the Dutch crane specialist Huisman's involvement, which is going to manufacture two tub-mounted cranes (10,000 tonnes) for the needs of the vessel in their China-based production facility.
The vessel might seem impressive in scale, but Heerema are completely dedicated for protecting the environment and are going to feature an Inventory of Hazardous Materials (IHM) as well as a full complement of LR's ECO notations which will include LNG propulsion , NOx Tier III compliance, and compliance with the ballast water management convention (BWMC) in order to guarantee that the vessel will manage to operate at a full level of efficiency in some of the most sensitive eco areas in the world.
The cutting-edge ship is going to also feature dynamic positioning capabilities along the lines of the DP (AAA) standard and will also comply with a series of coastal state measures, including Norwegian Maritime Authority (NMA), USCG and UK requirements which is going to translate into the fact that it will be possible for it to carry out deep and ultra-deep sea operations on a global basis.
"The contract we have established with Jurong Shipyard serves as a representation of the next important step along the lines of our plans of introducing the NSCV to the market. By deciding to continue with our plans given these current times of low oil prices, we have displayed our strong belief in the offshore oil and gas industry and have demonstrated our commitment towards offering unmatched installation services," commented Jan-Pieter Klaver, Heerema Marine Contractors CEO.
LR's South Asia Marine Area Manager, Piet Mast commented that this is the important next step regarding the long-running partnership effort established between the likes of Heerema Group and LR.
"The Heerema Group is displaying its strong commitment towards the marine and offshore industry. Given the opening of the new Southampton Global Technology Center of LR, this project perfectly fits LR's needs and serves as an exciting challenge for LR's Singapore team who are aided in their efforts by a number of LR global experts," he added.