A major rescue operation was conducted at the weekend after a collision between the Streamline chartered container ship Daroja and the fuel tanker Erin Wood.
The Aberdeen Coastguard received a mayday call at 5.10pm on Saturday (August 29) from the tanker Erin Wood, which had two crew members on board.
Image: Peterhead RNLI
After the collision with container ship Daroja, which occurred approximately two miles off Peterhead, the small fuel tanker has suffered water ingress. No injuries to crew were reported.
Aberdeen Coastguard teams requested the launch of Peterhead Lifeboat. Other vessels in the area also offered assistance.
When the rescue vessel of the Royal National Lifeboat Institution (RNLI) arrived at the incident location, the tanker had almost capsized.
Erin Wood had taken a large ingress of water through the wheelhouse, disabling all power and engines, which resulted in a severe list. Both crew members had launched a liferaft, in case they had to abandon ship.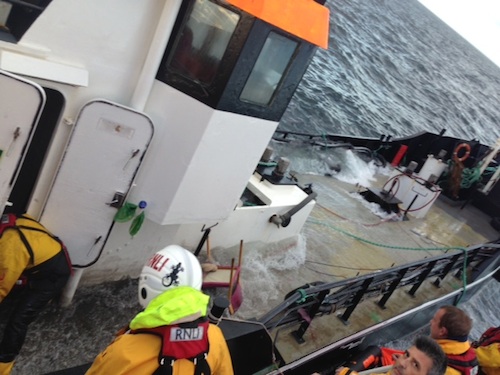 Image: Peterhead RNLI
Members of RNLI lifeboat team were transferred to the tanker with a salvage pump to assist the tanker's crew to pump out the engine room and the cabin of the tanker, in order to prevent capsize.
Soon afterwards the Erin Wood was then taken under tow by the trawler Ocean Endeavour into Peterhead. The general cargo ship MV Daroja also went into the port.
There is an ongoing investigation regarding the incident conducted by the Maritime and Coastguard Agency and the Marine Accident Investigation Branch.
Gareth Crichton, Streamline Shipping managing director, giving a statement on the incident on Monday August 31, said:
"Streamline was alerted to an incident at sea by the master of the chartered vessel MV Daroja at around 17:45 on Saturday afternoon where he reported contact with another ship, which transpired to be a small fuel supply shuttle the Erin Wood. Both vessels made their way into Peterhead. Daroja was alongside overnight, whereupon, following MAIB review and survey of her condition she was cleared to sail north on Sunday, effectively delaying our schedule by 24 hours."
He added: "We will be contacting customers this morning to apologise for the delay and making arrangements to get the vessel discharged and goods distributed as quickly as possible. We await further information regarding the detail of the incident from the MAIB investigation together with any comment from the vessel owners."