The Norwegian VARD shipbuilding company has decided to award a £6-million contract to Rolls-Royce for the purposes of designing and equipping a shrimp stern trawler.
The vessel is currently being constructed for an undisclosed Canada-based company. It has a length of 79 meters and is going to use as basis Rolls-Royce's NVC 374 design as well as come along with an ICE 1A ice class hull.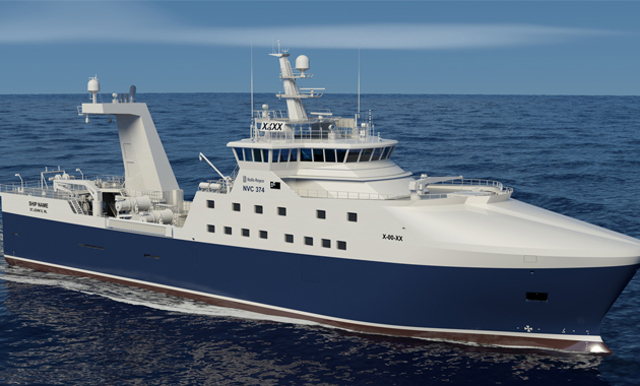 Image: Rolls-Royce
The fishing trawler is going to come along with a wide range of equipment provided by Rolls-Royce, such as a Bergen B33:45 main engine, a power electric system featuring a hybrid shaft generator (HSG) and Promas propulsion.
Along the lines of the contract, the company is going to be delivering a package which is going to also feature automation, tunnel thruster and fishing winches driven via the use of permanent magnet (PM) engines.
The PM engines are to drive thrusters in a more efficient and silent manner. Their design allows them to function in rough conditions that call for more control and rapid pull and speed changes.
The highly-advanced stern trawler is going to be equipped with an onboard factory for producing shrimps. It is also going to come along with a 2,100m3 storage capacity on specialized decks for the purposes of palletized cargo with two additional packaging holds across two decks.
The Bergen B33:45 provides a power per cylinder increase in the amount of 20% and can operate for a 25,000-hour period between major maintenance when functioning at average load levels.
The HSG provides a number of benefits like reduced emissions, improved fuel efficiency and reduced operating costs.
The fishing vessel is to be delivered in December of 2016 from VARD's Norwegian Aukra yard.