According to reports, the Panama flagged MV Apellis bulk carrier has been detained by the Australian Maritime Safety Authority (AMSA) following an inspection that uncovered numerous deficiencies regarding the crew's working conditions.
"The vessel has been detained on the matter of non-payment of wages and it will remain under detention by AMSA until this deficiency is rectified," commented AMSA.
AMSA carried out an inspection of the vessel at Esperance grain jetty following a complaint sent out by the International Transport Workers Federation (ITF) that raised concerns regarding the crew's welfare.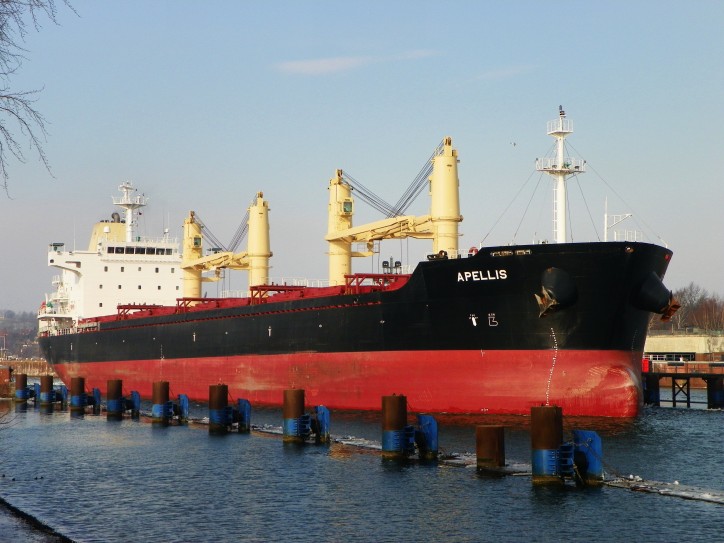 Image: B. Meier
When AMSA surveyors got on board the vessel they found numerous deficiencies such as the seamen not being repatriated by the their employment agreements as requirements stipulate, seamen not being given a monthly wages' account regarding August and them not getting paid on a regular monthly basis as stipulated by their respective employment agreements. The appointed authority officials also determined that the provided food was of inadequate quality and nutritional value.
Allan Schwartz, Ship Safety General Manager for AMSA, commented that proper seafarer treatment holds the same level of importance as the ship's proper equipment maintenance – a failure in each of the two systems could quite possibly result in serious accidents.
"All vessels operating in Australia's waters have to be in full compliance with the standards issued by the country. Seamen lead difficult lives, with them having to spend many months away at sea often.Any ship determined to be breaching the Maritime Labor Convention (MLC) or any other Australian standard is going to be detained by AMSA and repeating offenders are to risk receiving a ban from Australia's waters," he said.
All vessels registered in Australia and foreign ships operating within Australia's waters are to comply with the appointed standards in the MLC.
Pyrsos Shipping Co Ltd is responsible for operating the MV Apellis and the vessel is chartered by Hudson Shipping Lines.