Taiwan's biggest container shipper, that is the Evergreen Group, has managed to sign an agreement with the Japanese Imabari Shipbuilding Co. for constructing 10 all new container carriers with a capacity of transporting 2,800 twenty-foot equivalent units (TEU) in order to expand its current fleet.
The new shipbuilding plan marks the 2nd instance this past month in which a shipping company has made the decision of adding 2,800-TEU container carriers to its fleet. Back in August, Evergreen negotiated the signing of an agreement with Taiwan's China Shipping Corp. (CSBC) for 10 new ships with a 2,800-TEU capacity each.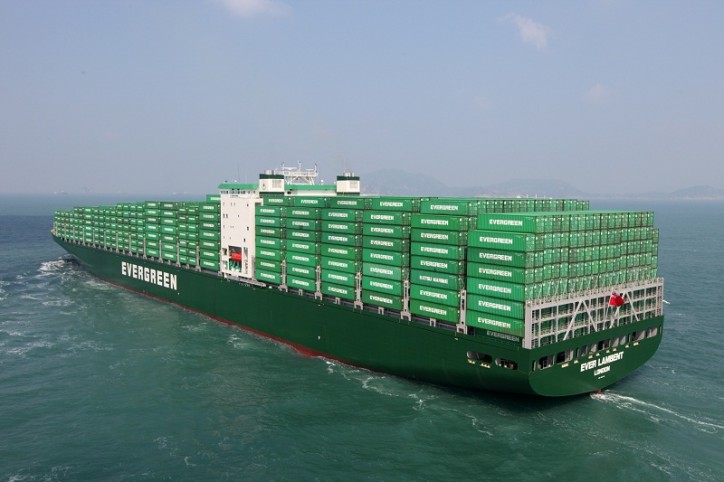 According to plan, the first vessel is to be delivered during 2017's second half and the series is to be completed by 2018's first half respectively. The ships are to be deployed for operation in the intra-Asia trade.
The additional 10 ships that are to be delivered from Japan-based shipbuilder Imabari as well as the initial 10 from CSBC are going to be assigned to the shipper's intra-Asia shipping business.
All of the 20 new vessels are categorized as B type ships and are going to have a length of 211 meters, a width of 32.8 meters and a 10-meter design draft, thus making it possible for them to dock in the rather small and shallow terminals of a large number of Southeast Asia-based ports. The vessels will be fully capable of loading 13 rows of container units on deck, which falls in line with the capabilities of the existing gantry cranes within the intra-Asian trade's major ports.
"Following the completion of the negotiations regarding Regional Comprehensive Economic Partnership (RCEP), the ASEAN countries, China, Australia, Japan, India, New Zealand and South Korea are to remove all trade barriers and thus enhance bilateral trade operations and boost growth levels of regional cargo volumes. The decision of investing in these newbuildings aims to provide for the growth potential that this free trade development brings to the table," commented Bronson Hsieh, Second Vice Group Chairman for Evergreen Group.