On Wednesday, the all new Cap San Vincent container carrier was christened by its Hamburg Süd owner at a ceremony at Daewoo Shipbuilding & Marine Engineering Co., Ltd. (DSME)'s Okpo shipyard in South Korea.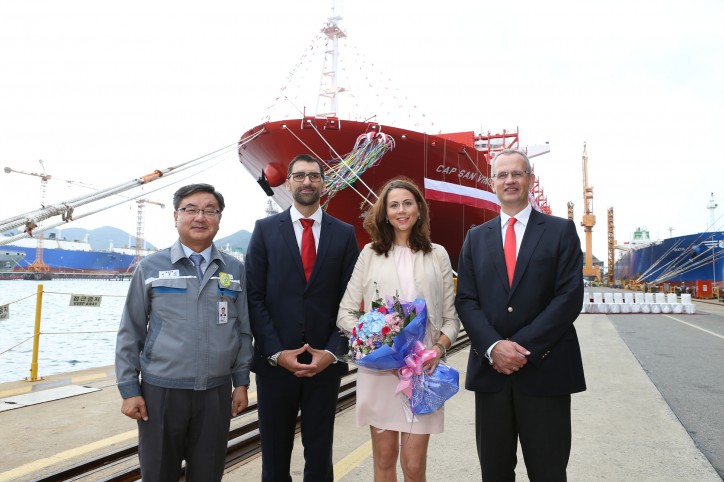 Image: Hamburg Sud
Cap San Vincent serves as the final entry in a 3-vessel series. The other two ships – Cap San Lazaro and Cap San Juan – were launched earlier this year. The three vessels come along the lines of the Cap San series, the biggest in the fleet of Hamburg Süd.
The 331-meter long Cap San Vincent has a 49.4-meter width, a reefer capacity of 1,000 plugs and a 10,600-TEU container slot capacity.
Hamburg Süd commented that the brand new vessel is going to begin its Asia-South America East Coast Service route in the later part of September and is going to transport products from Korea's automobile industry, household appliances and various other electronic merchandise from Argentina, Uruguay and Brazil. When returning back from South America to Asia the vessel will be transporting mineral raw materials and agricultural produce.
"The level of competition for carriers in the market may be quite high but we have the upmost confidence that there are a lot more growth opportunities out there. Thus, we are to expand our liner network in this particular region and use the Busan port in the role of a gateway for cargo coming from and to Korea," commented Dr. Arnt Vespermann, a Hamburg Süd executive board member.
The christening ceremony was attended by customers and various business partners of the company. K+S Transport (Kali + Salz)'s Susanne Neiro serves as a sponsor for the vessel.