ABB has placed an order for the most advanced cable-laying ship in the world in order to increase its submarine cable operation capacity and achieve better efficiency and precision.
The all new vessel is going to be constructed in full accordance with ABB's specifications and will have a length of 140 meters and a width of 30 meters. It will be built at Norway's Kleven shipyard with expectations being that it is to be delivered at some point during 2017.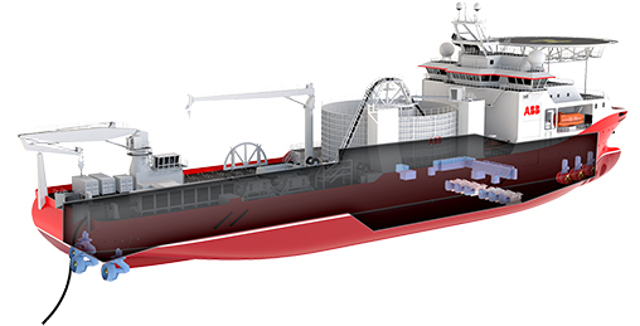 Image: ABB
"This next-generation ship featuring cutting edge ABB technologies is going to be an integral differentiator when it comes to our high-voltage cable venture. It will provide us with greater flexibility and contribute for better executing of the necessary procedures. It is also to improve our operational efficiency and client focus, supporting profitable growth in accordance with the company's Next Level strategy," commented Claudio Facchin, ABB's Power Systems division president.
The new vessel is going to be featuring a large number of ABB's very own leading marine technologies. For example, the award-winning Onboard DC Grid and power distribution are to be integrated aboard the ship, and are going to use a single DC circuit for vessel propulsion in order to reduce the level of power consumption.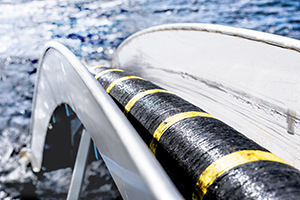 The ship is going to lay down new benchmarks regarding reliability and accuracy and is going to be integrated with roll-reduction tanks. All subsea operations are to be carried out and closely monitored via a remotely operated vehicle through the use of cameras and sonar, thus neglecting the potential need for divers.
The ship is set to also come equipped with a full ABB Integrated Automation System as well as three Azipod propulsion units. Along with an energy storage system for marine application it is going to reduce fuel consumption levels by 27% and maintenance procedures are to also be greatly reduced in comparison to traditional AC systems. Monitoring hardware and software along with a number of sensors will be responsible for sending data to shore via the use of a satellite link. This will contribute to help the onshore technical support teams to closely communicate and work with the vessel as part of the Integrated Marine Operations solution of ABB.
The vessel will also be equipped with advanced advisory software for motion monitoring, forecasting and decision support. As a result of using the highest class of dynamic positioning technology (DP3), the vessel is going to have the ability to maintain its position with a high level of precision. It is built in a manner to allow it to contain fire and flooding and is not going to compromise positioning or any other vital systems.