Naval warship INS Kochi, the largest-ever warship to be built in India, was commissioned by defence minister Manohar Parrikar at the Naval Dockyard in Mumbai.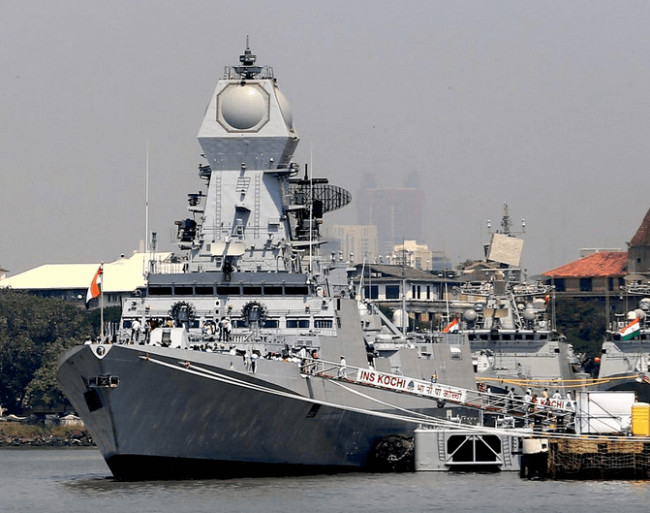 Image: @SpokespersonMoD/Twitter
"Jahi Shatrun Mahabaho" loosely means "Armed to conquer the enemy" in Sanskrit. It's an apt motto for guided-missile destroyer INS Kochi, packed with weapons and sensors as well as advanced stealth features.
Destroyers are second only to aircraft carriers in projecting raw combat power on the high seas. Induction of the 7,500-tonne INS Kochi, the second of the three Kolkata-class destroyers being built at Mazagon Docks (MDL) at Mumbai for over Rs 4,000 crore apiece, will make it the 10th destroyer in India's combat fleet.
The first of this class, INS Kolkata, was commissioned in August last year, while the third INS Chennai will be inducted towards end-2016. There is also the even bigger ongoing Rs 29,644-crore project to build another four stealth destroyers at MDL, with the first INS Visakhapatnam slated for delivery in 2018-2019.
The Indian Navy, on its part, has plans to become a 200-warship force with around 600 aircraft and helicopters by 2027 to ensure it can effectively guard the country's expanding geo-strategic interests in the backdrop of the IOR emerging as "the world's centre of gravity".
"We have to be on guard. India's developmental destiny is strongly linked to the seas around us. While we do not want competition with China to turn into conflict in IOR, we have to be ready and keep our powder dry," said another senior officer.
Source: timesofindia.indiatimes.com