The U.K. Government announced on Monday (Oct 12) that Cammell Laird in Birkenhead has been selected as the preferred bidder to build the nation's new £200 million polar research ship.

The decision follows a 12-month competitive tender process that involved bids from companies in the U.K., Spain, Norway, Singapore and South Korea. The winning project will secure jobs and apprenticeships and provide an economic boost to Merseyside, the shipbuilder noted.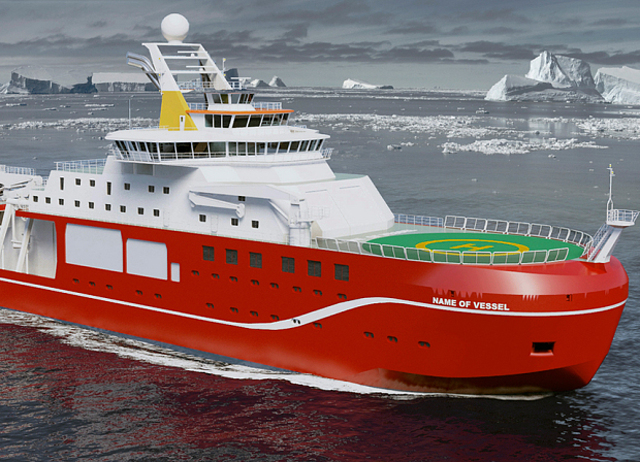 Image: clbh.co.uk

The shipyard is expected to cut steel in autumn 2016 and deliver the next generation polar research vessel ready for operation by 2019.
The new ship will be operated by the British Antarctic Survey (BAS) and will be available to the whole U.K. research community, including for postgraduate training. It will be able to accommodate up to 60 researchers and technical support staff.
Universities and Science Minister Jo Johnson said: "As a One Nation Government we are investing in science capital on a record scale. This £200 million investment secures the U.K.'s position as a world leader in polar research and provides a major boost to shipbuilding in the North West."
The new polar research ship, which will operate in both Antarctica and the Arctic, will be able to endure up to 60 days in sea-ice to enable scientists to gather more observations and data. It is expected to have ice-breaking capabilities that will allow it to break ice up to one meter thick when travelling at three knots.

The ship will be the first British-built polar research vessel with a helideck to open up new locations for science and will be one of the most sophisticated floating research laboratories operating in the Polar Regions.

The vessel will act as a central hub for a range of data-gathering remote instruments and onboard environmental monitoring systems, featuring a 'moon pool' which allows instruments to be deployed and collect data through an opening in the hull rather than over the side. Robotic submarines and marine gliders will collect data on ocean conditions and marine biology and deliver it to scientists working in the ship's onboard laboratories, while airborne robots and onboard environmental monitoring systems will provide detailed information on the surrounding polar environment.

The ship will also resupply the five U.K. research stations in the Antarctic operated by NERC's British Antarctic Survey.
NERC Chief Executive Professor Duncan Wingham said, "This new research ship, which is expected to become operational in 2019, will be equipped with onboard laboratory facilities and will be capable of deploying robotic technologies to monitor environmental changes to the polar oceans and will help U.K. scientists continue to lead the world in understanding our polar regions."
Source: clbh.co.uk