Gulf Coast Shipyard Group (GCSG) has delivered Harvey Power, the second LNG vessel operating in the United States—for Shell Upstream America's deepwater operations in the Gulf of Mexico—is fully in service. She is the second of six LNG OSVs being built for Harvey Gulf International Marine, and like her sistership Harvey Energy, Harvey Power is capable of operating on LNG or diesel fuel.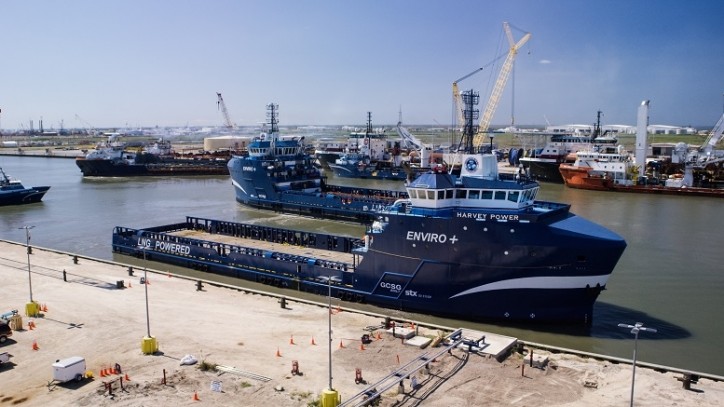 Along with being able to operate on LNG, she also meets the strident criteria of the ABS Enviro+, Green Passport notation. When operating on LNG, these vessels exceeds the new Tier IV emissions regulations requiring lower sulphur oxides and nitrogen oxides emissions as part of the North American Emission Control Area (ECA). She will refuel with LNG at Harvey Gulf's new LNG bunkering facility at Port Fourchon in southern Louisiana which allows easy access to more than 600 oil and gas rigs and platforms within a 40-mile radius.
Running on 99% LNG fuel (she is dual fuel), Harvey Power is a 310' x 64' x 24.5' platform supply vessel powered by three Wärtsilä 6L34DF dual fuel gensets, providing 7.5 MW of power and fueled by a Wartsila provided LNGPac system. With 5,219 metric tons of deadweight the vessel is capable of carrying 253,000 USG of fuel oil, 18,000 bbls of liquid mud, 1,600 bbls of methanol, 10,250 ft3 of dry cement and 73,000 USG of LNG fuel. When operating on LNG the Harvey Power can operate in excess of 19 day in normal GOM rig supply mode between refueling.
Dual Fuel Animation from Mike Carroll on Vimeo.
Marvin Serna is the new COO of Gulf Coast Shipyard Group and the new protocols and operational improvements he has put in place are becoming evident, such as the reduction of commissioning time from the first vessel to the second vessel of 45 days.
Harvey Gulf has 4 more vessels under construction with Gulf Coast Shipyard Group and is confident the shipyard can maintain the high quality of construction while continuing to improve on construction techniques resulting in shorter delivery times.
Mr. Shane Guidry, Chairman and CEO of Harvey Gulf, comments: "This is our second vessel capable of operating on LNG and is a testimony of Harvey Gulf's commitment to its customers and the environment to provide the most affordable, innovative, environmentally-friendly technical solutions to meet their business demands. We are happy to announce that Harvey Power has begun its' 5 year contract operating in the Gulf of Mexico."
Source: marinelink.com