DESMI Ocean Guard A/S to supply ballast water treatment systems to a series of new container vessels to be built at COSCO Zhoushan shipyard in China, for Danish shipper Maersk Line.
DESMI Ocean Guard announced that its RayClean ballast water treatment system (BWTS) has been selected for installation on Maersk Line's series of new containerships to be built at COSCO Zhoushan Shipyard Co., Ltd. The order is for seven vessels each equipped with two RayClean 500 BWTS, with options for two additional vessels. The systems will be delivered in 2016 and 2017.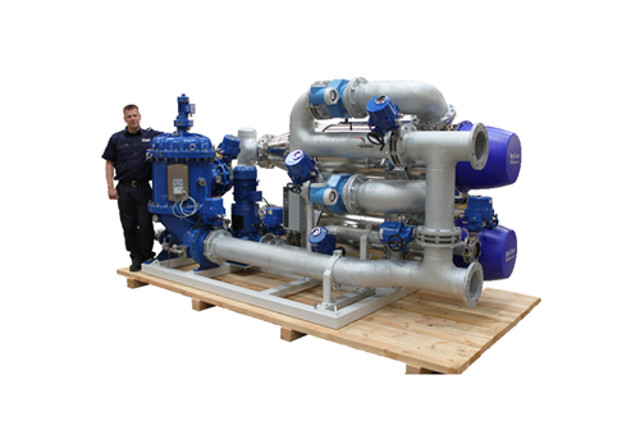 Image: desmioceanguard
Rasmus Folsø, CEO of DESMI Ocean Guard, called the contract "fruit of a very long and pleasant collaboration with Maersk." The BWTS manufacturer was established by A.P. Moller - Maersk A/S and UltraAqua A/S in 2009, though the former partners behind DESMI Ocean Guard divested their shares in the company in summer 2014, giving DESMI A/S full ownership. However, the RayClean system was developed in close collaboration with Maersk Line, meaning the system meets the shipper's requirements.
"Total Cost of Ownership analyses have shown us that the RayClean system will provide considerable operational cost savings to Maersk Line compared to competing systems, due to the low power consumption and long lifetime of the UV lamps," Folsø exlplained. "At the same time, the RayClean system is certified for use in all salinities and down to extremely low UV-Transmission levels not matched by any other system on the market."
According to the manufacturer, another deciding factor for the selection of the RayClean system was that the system has completed all the required testing for U.S. Coast Guard Type Approval, and a full type approval application was submitted to the USCG earlier this year.
DESMI Ocean Guard said the deal is the latest in a string of contracts, including supply of RayClean system for the Royal Canadian Navy's new Arctic Offshore Patrol Ships and retrofit projects on Danish shipowner Nordana existing vessels.
Source: desmioceanguard.com