A ceremonial launching ceremony of the vessel TSHD 2000 Severnaya Dvina was held at Song Thu Port in the central city of Da Nang on Monday morning (November 09).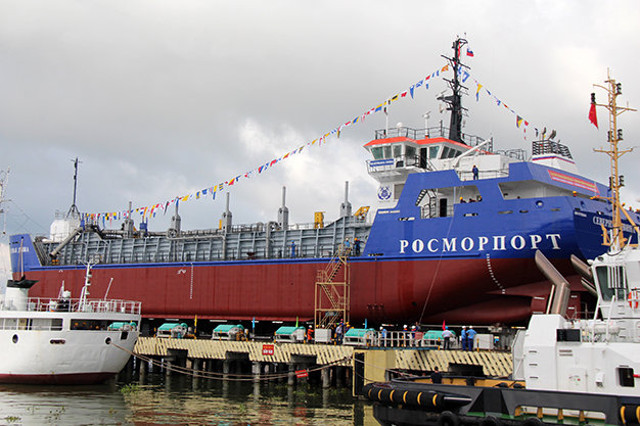 Image: Tuoi Tre
The TSHD 2000 Severnaya Dvina, which measures 80.35 meters long, is 16.2 meters wide with a maximum hopper volume of 2,300 cubic meters and total capacity of approximately 2,800 gross tons.
It is based on the original design created by the experienced engineers from the Dutch corporation Damen.
The inside of the ship is equipped with modern technology, including control systems, equipment and material specially designed to meet the demands of its mission as well as to function under extreme weather conditions.
The vessel, whose main responsibility will be dredging the northern estuary of Russia, was ordered by Rosmorport, a Russian state-owned port services company.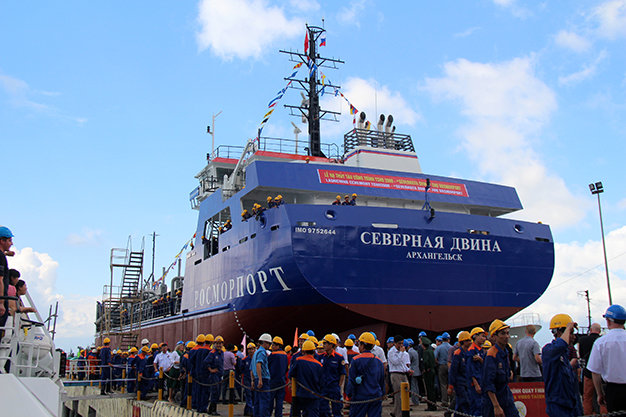 Image: Tuoi Tre
The project for the Vietnamese-made ship is expected to be completed in early 2016, when the vessel is ready to be transported to Russia.
This is the first-ever Vietnamese-built vessel to be exported to Russia and the building process has undergone strict protocols regulated by the Russian Maritime Register of Shipping, according to Colonel Ha Son Hai, director of Song Thu Company under the General Department of Defense Industry, which is managed by the defense ministry.
Not only does the completion of the project prove that Song Thu Company is one of Vietnam's leading firms in the shipbuilding industry, but it also contributes to the company's growing reputation, thereby bringing more opportunities to cooperate with international partners and clients.
Source: tuoitrenews.vn