SOHAR Port and Freezone celebrated the maiden call of M.V. Hawaiian Highway, one of the world's largest vessels, at the Port's general cargo terminal on Sunday (November 8).
The new service from K-Line is a so-called post-Panamax class RoRo carrier (standing for roll-on/roll-off), with an impressive 7,500-vehicle capacity. The ship is K-Line's newest and largest vehicle carrier, with a length of almost 200 metres and a width spanning 38 metres.
The vessel has a number of state-of-the-art features to allow for greater loading efficiency and it's smart construction results in a significantly lower environmental impact. Furthermore, the vessel can transport a wide variety of cargoes, including rolling stock for the rail industry.
K-Line has been a regular visitor to C. Steinweg Oman, the general cargo terminal at SOHAR Port, for many years. RoRo numbers at SOHAR have seen an impressive increase of almost 200% over the first three quarters of 2015, in comparison to this time last year, and SOHAR now handles well over 200,000 vehicles annually.
The K-Line service complements the Port's already impressive roster of direct connections, which has seen the addition of a number of major new shipping lines over the past few months.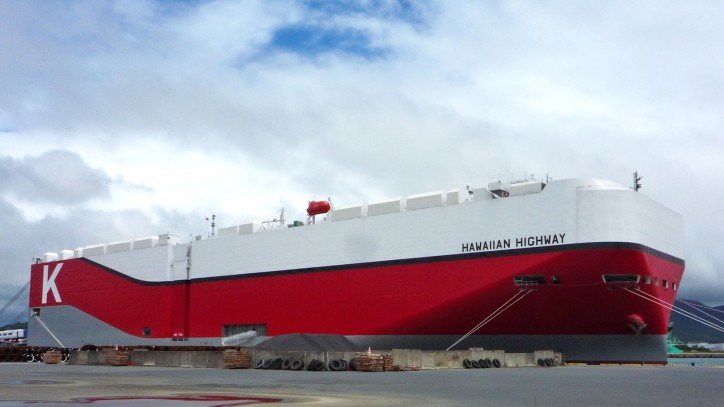 In May this year, SOHAR announced the addition of a regular service from Evergreen, and in June Hanjin added a new Far East service, directly linking SOHAR with South Korea, China, Malaysia, and Singapore.
Andre Toet, CEO of SOHAR Port, said: "Our rapid growth has positioned SOHAR as a significant regional hub. Every new direct liner connection we add in SOHAR is not only good for our own business, but it's also great for all our customers as it helps to reduce costs – and these are savings that can be passed down right along the supply chain."
SOHAR recently reported the first Toyota vehicles offloaded at the Port being taken to a state-of-the-art presales finishing centre in the adjacent Freezone. The brand new facility, built and managed by Saud Bahwan, is one of the first to be opened in what will become a significant automobile cluster in SOHAR, designed to serve the regional car and commercial vehicle industry.
SOHAR Freezone CEO, Jamal Aziz, commented: "It's great to see this part of our plans coming to fruition today; one of the world's largest vessels delivering thousands of new vehicles to the Port, with many of them destined for our new automobile cluster in SOHAR Freezone, before they are transported to regional dealerships. It is this kind of synergy that that will help us to build a sustainable logistics infrastructure to support Oman in achieving our Vision 2020 objectives."
SOHAR Port has recently been shortlisted for Port of the Year at the Maritime Standard Awards 2015, and the Best Dry Bulk Port at the IBJ Awards 2015, to be announced soon in Antwerp.
Source: soharportandfreezone.com