Dryad report states lack of IS capability in Libya despite proclaimed 'targeting of Crusader ships and tankers'
THERE is no positive evidence that Islamic State has the capability to conduct a successful attack on commercial shipping, despite its stated intent to do so, according to an assessment of maritime security in the Mediterranean produced by Dryad Maritime.
However, the UK-based consultancy warns that it may be able to in the future if it is able to consolidate its current foothold in Libya, which would offer it the necessary launch points and logistics for such activity.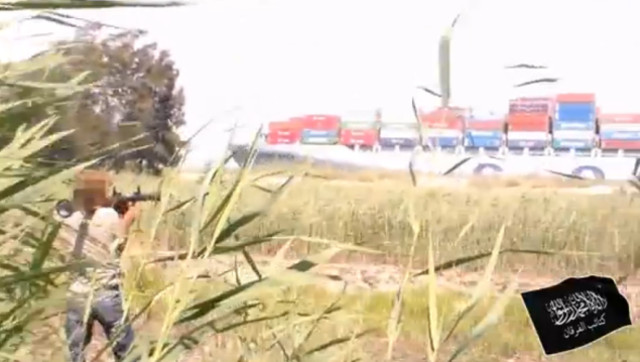 Terrorist strikes on vessels have been rare but are not unknown, with documented instances including the attack on Limburg, a Euronav very large crude carrier that was rammed by an explosives-laden speedboat off Yemen in 2002.
In 2010, there was a blast on board Mitsui OSK VLCC M Star in the Strait of Hormuz. Officially attributed to a freak wave, most shipping security professionals believe that it was in fact the work of extremists.
In 2013, Islamic terrorists claimed responsibility for a rocket propelled grenade assault on boxship Cosco Asia while transiting the Suez Canal, which did not cause serious damage.
IS propaganda has recently proclaimed the "closure of shipping lines because of the targeting of Crusader ships and tankers" as a tactical aim. But Dryad argues that the majority of terrorist activity at sea is logistical in nature, designed to facilitate attacks ashore.
So for instance, an attack on an Egyptian patrol boat in November 2014 is assessed to have most likely been an opportunist attack by weapons smugglers associated with the Ansar Beit al-Maqdis group.
Abu Sayyaf, the main Islamic militant group in the Philippines, uses boats to facilitate attacks ashore, but does not routinely attack ships at sea. It did, however, mount a crew kidnap in April 2014.
"It is evident that IS has a desire to disrupt the flow of shipping through the Mediterranean from the Strait of Gibraltar to Port Said and the Suez Canal," Dryad said.

"However, how much of this is the actual goal of the IS leadership in Syria and Iraq is unclear. The current evidence is based on a single article from an IS propagandist, which has had no official endorsement."
While the Libyan branch of IS is estimated to be 200-300 strong in terms of fighters, at the moment it has its hands full fighting the internationally recognised Libyan government and rival Islamic factions. It may have long-term objectives that include attacking commercial vessels, but the establishment of a permanent foothold on land carries a much higher priority.
Dryad assesses that in order to successfully attack a merchant ship offshore, the terrorists would need to operate small speedboats from a mothership in order to be able to sustain operations at over 200 nautical miles from base. Analysis of available overhead imagery of the ports assessed to be currently under IS control in Libya suggests that the numbers of these types of vessels are limited.
The normal Somali routine of using whalers or dhows to tow skiffs to an attack position is unlikely to work, as this type of fishing is not as widespread in the Mediterranean as it is in the Indian Ocean, and is thus easily identified as suspicious activity.
Some level of at least rudimentary training would also be needed, and perhaps a few trial runs on smaller vessels. Although there are doubts regarding the means to deliver an attack at sea, the health warning is that there is no doubt that the weaponry exists in Libya to conduct such an attack, if such a capability were to be developed.
Source: lloydslist.com