Spirit of Tasmania and Holland America's cruise ship Noordam have been evacuated at Station Pier in Melbourne after sniffer dogs picked up 'suspicious scent'
Passengers have been stranded for four hours in the nearby port area, standing near the police cordons and waiting for officers to give them the all clear.
The Victorian Bomb Response Unit conducted safety checks at the pier after sniffer dogs picked up a suspicious smell at 12.15pm local time on Friday (Nov 20), but deemed the area safe at around 4.15pm.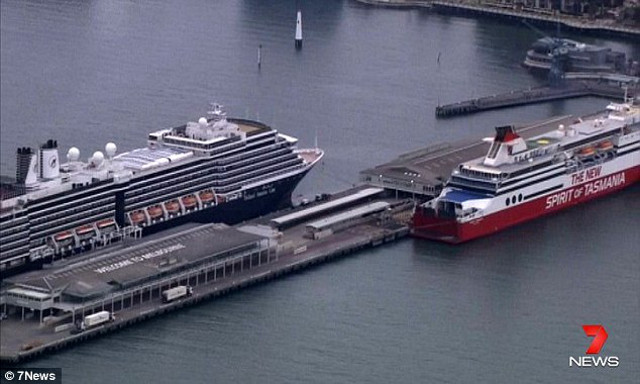 A Victorian Police spokeswoman said 'everything has been cleared', and clarified that an earlier tweet published by the service about a 'suspicious package' being found was in fact incorrect.
It is understood that the vessels - which were set to depart at 5.30pm on Friday - will continue running according to schedule.
Mr Brooker said passengers, including those from the United States and Canada, had found shelter in a nearby pub as police inspected the Noordam.
'Police came in to check the pub and are occupying the whole of upstairs,' Mr Brooker said.

'There were paramedics, a couple of ambulances, at least 15 police cars and a lot of detectives [at the scene].'
Along with police tape, officers had also put up plastic water barriers.
Port of Melbourne Corporation chief executive Nick Easy would not comment on the operation but said the pier was in lockdown.
'Those two vessels are berthed at the pier and both were scheduled to depart at 5.30pm but they won't do so now until the area is cleared by Victoria Police,' Mr Easy told AAP.
The Spirit of Tasmania can hold up to 1,400 passengers as well as 500 cars and ferries people daily from Melbourne to Devonport.
Meanwhile, the Noordam has a capacity of up to 1,924 passengers and 800 crew.
Source:dailymail.co.uk