Europe is turning to a new tool to catch ship operators skirting pollution limits: emissions-sniffing drones.
It is the latest sign of how civilian drones, for now largely the preserve of amateur enthusiasts, are finding a widening array of commercial uses.
The twist in Europe is that it is government bodies that are among those championing the technology. In the U.S., tech companies have been quick to try out the technology. Amazon.com Inc. is testing drones to deliver packages, and Facebook Inc. is aiming to use drones to help provide Internet access.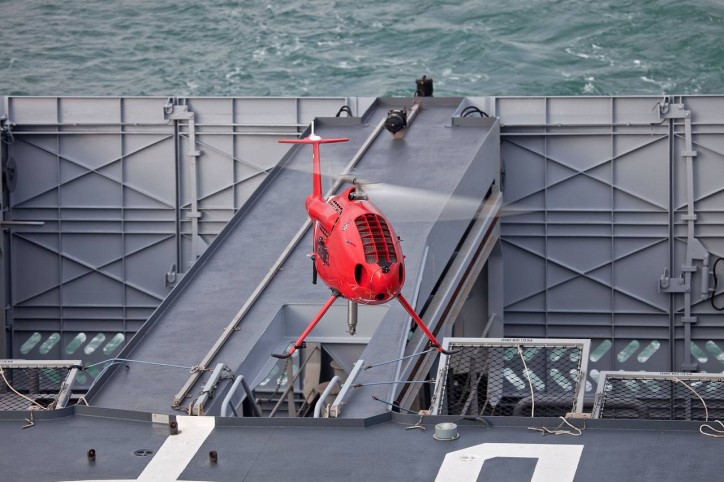 For the new maritime-emissions proposal, the European Maritime Safety Agency and the European Space Agency are hoping to cooperate in tracking the pollution from ships sailing in some of Europe's busiest waters: the English Channel, the North Sea, the Baltic Sea and the Gulf of Bothnia, between Sweden and Finland.
Starting last January, ships in these waters can emit fumes with a sulfur content limited to no more than 0.1%, compared with up to 3.5% previously.
The rules are meant to clean up air along Europe's sea routes. Shipowners can incur fines if they don't comply. But regulators have struggled over how to enforce the rules given the large area they have to police.
"Member states are struggling to enforce the low-sulfur directives," said Leendert Bal, EMSA's head of operations. "And there are a lot of concern by shipowners that there is no level playing field. So we need to do as much measuring as possible, and drones will help us do more measurements."
Operators such as Stena Scandinavia AB, or Stena Line, have invested millions of dollars in scrubbers to extract pollutants from its vessels' emissions, and have upgraded engines to burn cleaner fuels. Stena executives worry, though, that rivals that pass through emissions-control areas but don't dock there will still burn cheaper and dirtier fuel, giving them a competitive edge.
"Operators that do routes within the low emission zone will play by the rules," said Stena Chief Executive Carl-Johan Hagman. "But who is going to check, stop and, if necessary, fine an oceangoing ship coming from, let's say, the Atlantic to St. Petersburg?"
Some equipment is in place to help better police ship emissions.
Denmark has installed sniffer sensors on the Great Belt Bridge, which connects the Danish islands of Funen and Zealand over one of Europe's busiest routes. Thousands of commercial ships pass under the bridge each day. The sensors can detect excess sulfur emissions that might signal a violation. Regulators can then test the ship's fuel at its next port visit.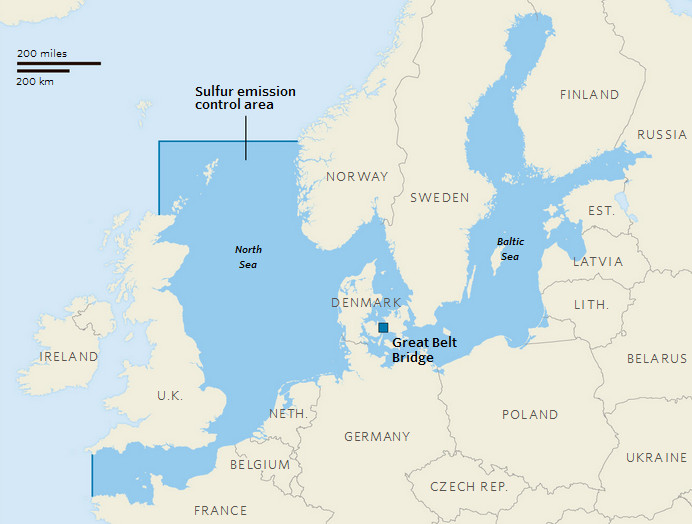 Image: International Maritime Organization
As for drones, European officials are still assessing what kind they may need. EMSA, in a presentation last month, indicated it would want an aircraft that could fly for at least four hours and have a range 20 kilometers, or about 12 miles. It would be equipped with sulfur and CO2 sniffers, as well as equipment to recognize ships from their unique onboard identification beacons.
The drone would fly through a ship's exhaust plume to measure sulfur emissions, said Pierre Debusschere, who works on the project for Toulouse, France-based satellite data analysis organization CLS Group.
The miniature aircraft would be used both for routine measurements along shipping routes, as well as monitor specific vessels that have previously violated emissions rules, Mr. Debusschere said. It could allow the regulators to establish a "black list" of violators.
The European Space Agency is involved in the project because of the need to use satellites to communicate with the drone far from land. The space and maritime agencies plan to meet with industry officials Wednesday to determine what systems might be available for the monitoring role. A feasibility study, including flights out of the port city of Hamburg, are slated to run through July.
If the experiment is successful, Mr. Bal said drones could start flying over ships regularly from later next year.
Shipping firms have mixed feelings, including concerns about interference and safety.
"There have been some concerns that the drones may malfunction and collapse on ships," said Erik Lewenhaupt, head of corporate communications at Stena Group, the parent of Stena Line. "But if we can get around that, anything that can measure emissions in the open water will be positive."
At the same time, other European agencies are examining how drones can help improve their operations. Britain's Air Accidents Investigation Branch, for instance, has begun using drones to examine plane crash sites.
Source: wsj.com