France's CMA CGM is in talks with banks including BNP Paribas Group, HSBC Holdings PLC. and J.P. Morgan & Chase Co. to raise money to finance the acquisition of Singapore shipping company Neptune Orient Lines Ltd. in a deal valued at around $5 billion, people with knowledge of the deal said Thursday.
CMA CGM, the world's third-largest container shipper by capacity had late last month entered into exclusive talks with NOL's largest shareholder, Temasek Holdings Pte. Ltd., to buy its stake in the Singapore-listed firm. If CMA CGM succeeds in acquiring the stake, it will eventually lead to an offer for all of NOL.
"CMA CGM must show it has the financial muscle to go through with the deal so it is talking to the banks," one of those people said, also that the terms of the deal are still be being worked out.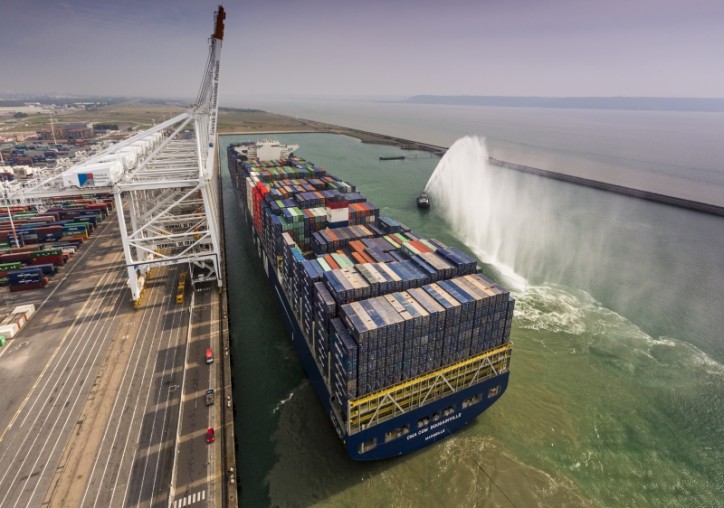 Image: CMA CGM
The offer could include $3 billion in NOL's debt. NOL has a market capitalization of close to $2 billion. A deal would allow Temasek to exit from a company that has been incurring losses for many years.
If the acquisition goes through, it would be one of the biggest tie-ups between container-shipping lines in recent years and would mark a rare consolidation in a fragmented industry. The exclusivity period ends Monday.
If CMA CGM makes an offer to buy Temasek's 65% stake in NOL, Singapore takeover rules require that the French shipper make an offer for the whole company. According to Singapore laws, an acquirer has to make an offer to buy the whole company if its stake tops 30%.
Earlier in November, NOL had disclosed it was in separate talks with both A.P. Moller-Maersk A/S, the world's largest container line by volume, and CMA CGM. In a statement on Nov. 21, NOL said that it and its shareholder have entered into exclusivity with CMA CGM that will allow the French shipper to conduct due diligence and negotiate definitive terms of a potential agreement.
NOL, which handles about 3% of global container volumes, said there is no assurance that the talks would lead to a definitive offer.
Sluggish global trade and overcapacity have hammered even the biggest shipping lines, forcing many into strategic alliances and rounds of cost-cutting. Many blame the industry's fragmented nature for its current struggles. With few companies controlling more than 5% of the market, reducing the glut of ships is taking longer than many industry observers had anticipated.
Even so, consolidation has been rare. Several potential takeover targets, such as NOL, are controlled by deep-pocketed sovereign-wealth funds, which can afford to ride out the industry's boom-and-bust cycle. Others are private or family-controlled outfits, which often take similar long-term views.
NOL's Asia-to-Americas routes would fill a weak spot for CMA CGM, whose executives have said they are looking to expand into new territories.
NOL has been looking for a buyer for months. The company reported a $96 million loss in the third quarter and sold its profitable logistics business, APL Logistics Ltd., for $1.2 billion to Kintetsu World Express Inc in May.
CMA CGM faces pressure to expand as two state-owned Chinese shipping giants, China Ocean Shipping Co. and China Shipping Group Co., are in advanced talks to merge.
CMA CGM, employs around 22,000 people around the world and manages a fleet of 470 ships.
Related news: CMA CGM Enters Exclusive Talks with NOL
Source: www.wsj.com