China's fuel exports surged to a record as refiners dumped excess fuel overseas to cope with a slowdown in the world's second-biggest consumer.
Net fuel exports rose for a fifth month to 2.22 million metric tons in November, 77 percent higher than the previous month, according to data released Tuesday by the Beijing-based General Administration of Customs. Inbound crude shipments climbed 7.2 percent from October to 6.68 million barrels a day, the highest since September.
Chinese refiners are tapping export markets to reduce swelling fuel stockpiles, particularly diesel. The nation is also encouraging overseas shipments by allowing independent plants to apply for export quotas to sustain refining operation rates and ease an economic slowdown, according to Yuan Jun, general manager at oil trader China Zhenhua Oil Co.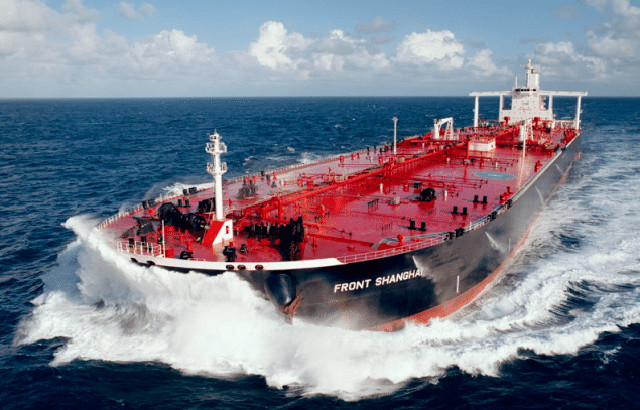 "The economy is recovering slower than expected, so stockpiles of diesel, which has a strong link with manufacturing and construction, have built up," Zhang Bin, a senior analyst with SCI International, a Shandong-based industry researcher, said by phone. "We expect fuel exports to rise further next year given additional shipments from teapot refineries."
Weak Growth
China's total November exports fell for a fifth month, dropping 6.8 percent in dollar terms from a year earlier, while imports declined for a record 13th month. China's manufacturing index slipped to the weakest level in more than three years in November as six interest-rate cuts in the past year failed to spur a recovery. The country's economic expansion this year is struggling to reach the government's target of about 7 percent, with Bloomberg's monthly gross domestic product tracker at 6.57 percent in October.
Smaller independent refiners, known as teapots, boosted runs to the highest in three years in October as the government widened their access to imported crude, according to industry website Oilchem.net. Teapots account for almost a third of the nation's processing capacity and 13 of them have been granted crude-import quotas totaling a combined 55 million tons, or 18 percent of the nation's annual imports.
Biggest Quotas
The three teapots with the biggest import quotas have said they'll utilize their permits next year. Shandong Dongming Petrochemical Group, the nation's largest independent refiner by capacity, said it plans to fully use its crude-import quota of 7.5 million tons next year, while Panjin North Asphalt Fuel Co. and Baota Petrochemical Group will probably import 7 million tons and 6.1 million tons, respectively.
"Chinese crude oil imports and product oil exports are being driven higher by relaxation of restrictions on teapot refineries," Ivan Szpakowski, an analyst at Citigroup Inc. in Hong Kong, wrote in a research report Tuesday. "The ability of teapot refineries to also apply for product oil export quotas is likely to further remove constraints on the development of the sector. As a result, we expect China's role as a refiner of imported crude oil and exporter of product oils to continue to develop."
The nation's independent plants may ship out as much as 5 million tons of oil products annually in three to five years after they build pipelines connecting to ports, Li Li, a research director with ICIS China, said on Nov. 26.
Crude imports in the first 11 months of the year increased 8.7 percent and are poised for the 14th straight annual gain. Last month's increase in shipments may result in a rebound in commercial crude inventories, which dropped 4 percent in October to the lowest since April 2014, according to Bloomberg calculations based on data published by the official Xinhua News Agency.
Source: www.bloomberg.com