A blaze destroyed a ship Sunday afternoon off the central Binh Thuan Province (Vietnam) a local news media reported.
The fire reportedly broke out in the ship's engine room.
According to a report, the Hai Tin ship, which was used for purchasing and transporting seafood of a private company in Phu Quy District's Tam Thanh Commune, was on its way to the mainland for repairs when it suddenly caught fire.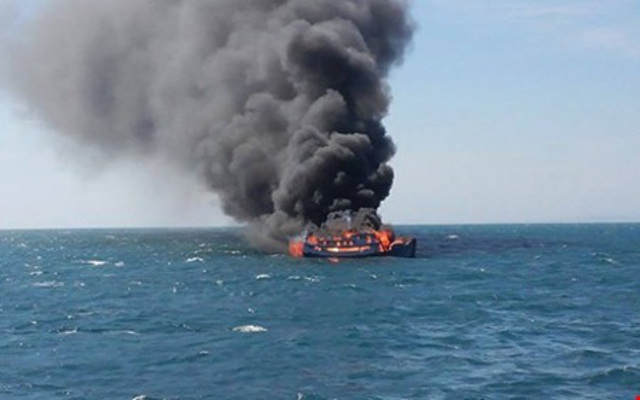 Image: vietnamnet.vn
The ship's crew has earlier heard a strange sound coming from the ship's engine room, where the fire later broke out. A gas cylinder on the vessel exploded in the fire.
Within 10 minutes, the whole ship was ablaze and there were several large explosions. The seven crew members on board jumped into the sea to escape and could not do anything to report the incident via the maritime information system.
However, a passenger ship saw the fire and turned back to rescue the seamen. They were all rescued an hour later, given medical aid on the vessel and were taken to safety.
The Hai Tin ship was totally destroyed and sank later.
Source: vietnamnews.vn