Hyundai Heavy Industries President and CEO Kwon Oh-gap said on Monday that the company has set an order target of $19.5 billion in 2016, down from a target of $22.95 billion in 2015.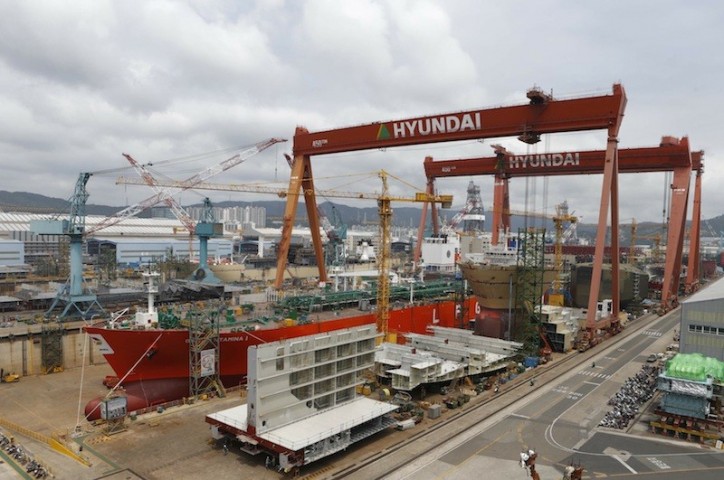 Hyundai Heavy Industries shipyard in Ulsan, about 410 km (255 miles) southeast of Seoul / Image: Lee Jae-Won
"After a series of grueling discussions at the end of last year, HHI set the full-year sales target at W21.6396 trillion and the new order target at $19.5 billion," said Kwon in his new year's address. "These may seem lofty, but nothing would be impossible if we put in our best efforts.
"Even though we hoped to return to profitability last year, we were faced with significant losses following the contract cancellation of a semi-submersible rig and massive losses of the offshore business," said Kwon. "New orders bagged on relaxed payment terms and cheaper pricing have taken their toll on the Shipbuilding, Offshore and Industrial Plant Business Division. Other divisions, namely Engine & Machinery, Electro-Electric Systems and Construction Equipment, have suffered as well: the work has reduced by 20-30 percent, and several construction equipment shops have even halted operations."
The shipbuilder, together with smaller affiliates Hyundai Mipo Dockyard and Hyundai Samho Heavy Industries, was the biggest shipyard group in the world by orderbook as of November, according to Clarksons Research.
Low oil prices and complex designs have made high-end offshore floating production facilities for oil and gas loss-making for the world's three biggest shipbuilding groups, all South Korean, as demand shrinks and some orders are slashed.
Source: maritime-executive.com