Singapore-based dry bulk owner Berge Bulk has taken delivery of the second in a series of four 262,000 dwt bulkers, Berge Makalu, from Chinese builder Guangzhou Shipyard International (GSI).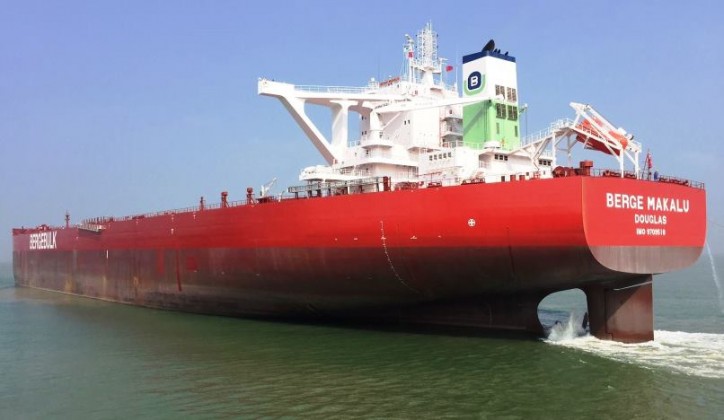 Built at GSI shipyard in Longxue, China, Berge Makalu was delivered on Tuesday (Jan 5). The vessel is the second in a series of four Berge Bulk sister ships to be delivered from GSI over the coming two years.
Like her sister ship Berge K2, Berge Makalu will sail under the flag of Isle of Man for Berge Bulk's customer BHP Billiton, carrying 134,693 m3 of gross tonnage in five cargo holds on the route between Australian Port Hedland and various ports in China.
As part of Berge Bulk's efforts to minimise its impact on the ocean and the atmosphere, Berge Makalu and her sister ships are piloting Samsung's new energy monitoring software "ENSaver". It provides a dashboard overview of all vital sensors to ensure the ship runs on optimum parameters. The ore carrier's MAN B&W's super-long stroke main engine is tuned for low load and, along with a rudder bulb, increases energy efficiency. In fact, the vessel's main engine is so efficient that exhaust gas boilers had to be installed in order to recover waste heat not only from the main engine, but also from both auxiliary engines.
Berge Makalu was named after Mount Makalu, the fifth highest mountain in the world with an elevation of 8,462m (27,765 feet). It is an isolated peak in central Nepal, just 22.5km (14 miles) east of Mount Everest.
Source: www.bergebulk.com