This is a real video footage recorded by the Dutch Navy during an operation in Somali waters on board MS TAIPAN back in April 2010.
The conducted operation of the Dutch navy was a rare victory in the war against international piracy after marines abseiled from a helicopter to seize control of a captured container ship following a shootout with Somali hijackers.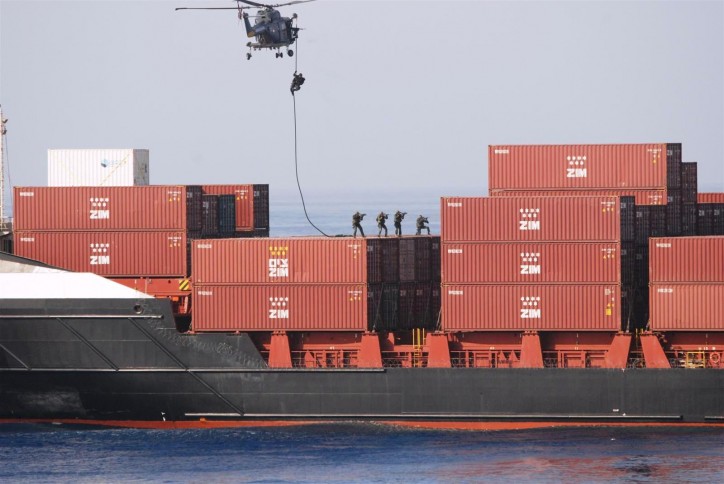 One Dutch marine was slightly injured during the storming of the container ship, which had been boarded by 10 Somali pirates from small boats armed with machine guns.
The 15-man German crew of MS Taipan had radioed for help after taking refuge in a secure cabin on board the ship.
The Dutch frigate Tromp was called to the scene and caught up with the MS Taipan some 560 miles off the Somali coast because the German crew had managed to shut down the ship's engines. The vessel was almost at a standstill as the pirates boarded, the Dutch navy said.
What followed was the stuff of a James Bond film: after the Dutch frigate attempted to negotiate with the pirates but failed, a helicopter gunship from the Tromp took off and machine-gunned the bridge of the MS Taipan. Minutes later the helicopter hovered over containers on the bow of the MS Taipan allowing a unit of heavily armed marines to abseil on to the deck, storm the vessel and retake it.
Despite the damage to the ship's bridge, the MS Taipan was then able to continue its voyage from the Kenyan port of Mombasa to Djibouti. The marines detained the 10 Somali pirates on board the ship.
The raid was described as an exceptional feat as most attempts to stop piracy on the high seas usually result in captured ships being left in the hands of their hijackers because of fears for the safety of the crew.