Following the footsteps of the first two Berge Bulk handy-size vessels, Berge Bulk delivered its third newly built handy-size vessel, Berge Asahidake from Namura Shipyard in Japan. The vessel was handed over on Wednesday (Jan 13).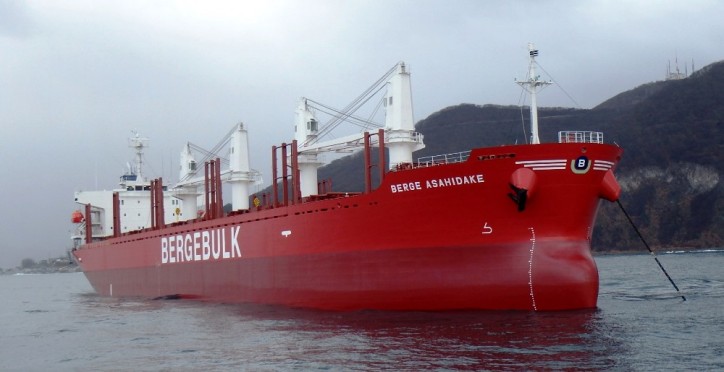 The 34,000 DWT vessel is named after Asahidake Mountain, which is, at 2,291m (7,516 ft) the tallest mountain in Hokkaido, Japan, and an active stratovolcano. It is located in the northern part of the Daisetsuzan National Park.
Like her sister ships Berge Hakodate and Berge Daisetsu, Berge Asahidake is equipped with energy-saving and environmentally friendly technologies such as rudder bulb fins, Namura flow control fins, and a new generation of propeller that omits root and hub-vortex cavitation.
The main engine's technology electronically controls fuel injection and the exhaust valve drive. This allows an auto-tuning of the engine and ensures more efficient operations during slow steaming. Also, both main and diesel generator engines comply with Nitrogen Oxides Tier II regulation.
Berge Asahidake will be traded on the spot market. The growing and efficient Berge Bulk fleet will soon be joined by a fourth, 34,000 DWT sister ship.
In total, the Company is expecting the delivery of three further 34,000 handy-size new builds before the end of the year, completing a series of six Namura sister ships.
Related news: Berge Bulk takes delivery of New 262,000-dwt Dry Bulker
Source: www.bergebulk.com