Oil and gas firm BG Group announced that it has came up with a new LNG ship design that promises a 3-5% savings in fuel usage and corresponding emissions.
The project, named Blue Amazon, optimises the shape of an LNG ship's hull and cargo tanks, allowing it to sail with lower water resistance, reduce fuel use and significantly cut emissions.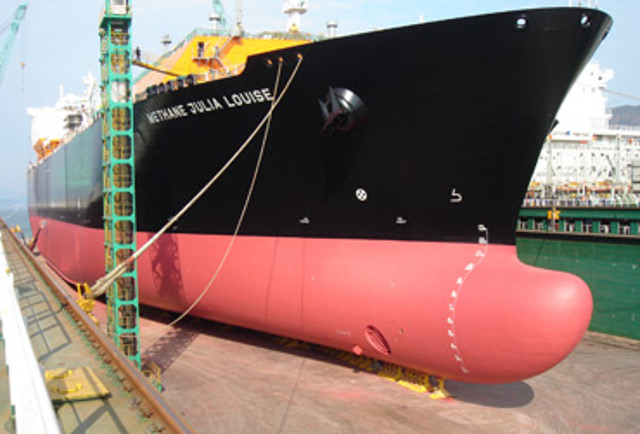 Image: BG-Group
"The idea was to achieve the highest level of efficiency by trying to improve upon the best designs currently being built at the shipyards that BG partners with," said Michael Davison, BG Group's project development manager for ship design and construction.

"Our task was to try and independently create a new, highly efficient hull form and general arrangement for an LNG ship," Davidson said.
The project also considered how the design would affect vessel construction, and a central concept of the project is to ensure that the new design is practical and cost effective to build.
BG Group said it has recently discussed the design with South Korean shipyards and received their feedback. On fuel savings, Davidson said 3-5% savings may not sound much but "if you've got a large fleet of say 30, 40 ships, each burning around 80 tonnes of fuel a day, you can imagine the emissions and commercial advantage of such savings." He pointed out that over a year, a fleet of such ships would be saving approximately 32,000 tonnes of LNG fuel.
The team is now refining the design as it moves into the final stage of optimisation. The final design is expected to emerge in March this year, and the team looks forward to industrialising it for subsequent shipbuilding orders.
The Blue Amazon project is facilitated by BG Technology Group in Brazil, and carried out in collaboration with classification society Bureau Veritas (BV), BV's technology partner HydrOcean, manufacturer of LNG tanks GTT, Instituto de Pesquisas Tecnologicas (Sao Paulo), and Universidade Federal do Rio de Janeiro.
Source: www.bg-group.com