Passenger cargo ship Sabuk Nusantara 49 serving water transportation in small islands in North Maluku in Indonesia caught fire on Thursday, January 21, 2016, in the Timor Sea, after departing from Tenau Port, Kupang, East Nusa Tenggara.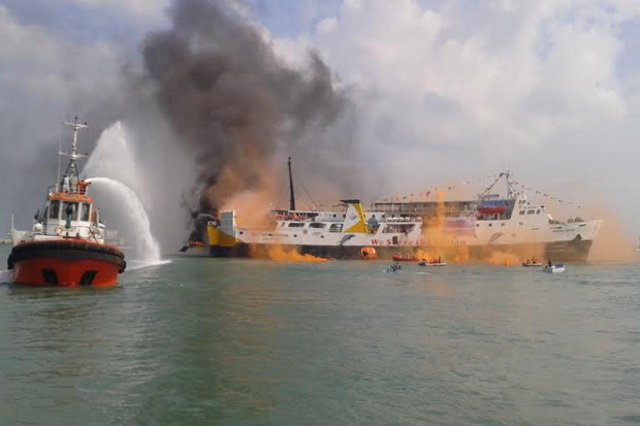 Image: newsth.com
Fire razed deck 4 at the left side of the boat. One of the passengers, Nelcy Kamalai, said that the smell of smoke occurred after the boat departed. Suddenly, black smoke started to emerge from the left side of the boat causing panic among passengers.
"The boat was just departed. Suddenly there was black smoke. People ran and cried for help," Nelcy said.
The National Search and Rescue Agency (Basarnas) immediately responded the report and evacuated hundreds of passengers to Tenau Port, Kupang. The passengers were sheltered in the departure facility to be examined.
Families of passengers aboard the boat rushed to the port after they found out the news about the incident. Causes of the fire remain unknown, but a report said that the fire was sparked by a foam mattress carried by a passenger.
Based on information gathered by Tempo, KM Sabuk Nusantara 49 should have departed on January 2, 2016. However, the departure was postponed due to issues with permits from the Transportation Ministry, causing hundreds of passengers from North Maluku stranded in Tenau Port.
Source: en.tempo.co