Vard Holdings Limited, one of the major global designers and shipbuilders of offshore and specialized vessels, has announced that its subsidiary Vard Marine has secured a new contract for the design of one Antarctic icebreaking vessel for the Chilean Navy. The contract value is approximately four million Euros.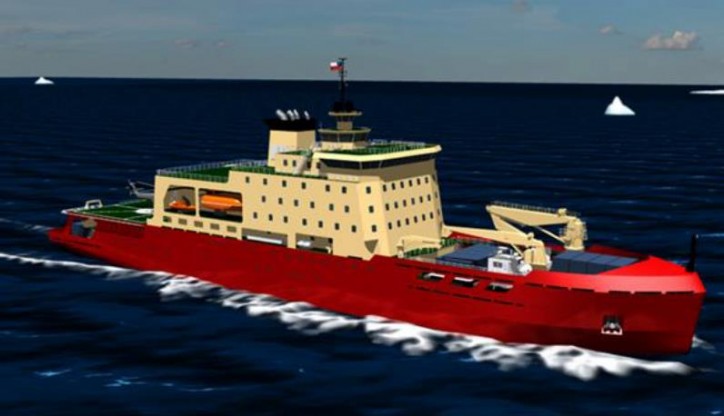 A rendering of the VARD design for the Antarctic icebreaking vessel Image: VARD
Vard Marine, a consulting naval architecture and marine engineering company, has been awarded the contract by ASMAR Shipbuilding & Ship Repair Company to design an Antarctic icebreaking vessel for the Chilean Navy. The contract calls for Vard Marine to develop the basic design of the ship that will be constructed at the ASMAR shipyard in Talcahuano, Chile. The vessel will be capable of operating throughout the Southern Ocean with services to include logistic support, search and rescue missions, scientific research, and resupplying bases in the Chilean Antarctic Territory.
The new vessel will be approximately 125 metres in length with a displacement of over 13,000 tonnes, a total complement of 155, and installed power of 14.5 MW to permit breaking one metre of ice at two knots.The vessel is designed to carry a wide range of containerized and vehicle cargo; helicopters and rescue boats for logistics/SAR missions, as well as the ability to undertake a broad range of scientific data gathering activities. Delivery of the vessel is scheduled in 2021.
Based in Canada and the US, Vard Marine offers ship design, engineering, and shipbuilding technology services to the marine community in North America and to selected international markets.
Source: Vard