Topaz Energy and Marine, a leading international offshore support vessel company, has expanded its fleet with the acquisition of a 5220 BHP, 1300 DWT and 60 tonnes bollard pull anchor handling tug supply vessel (AHTS) 'Mamlaka', bringing its total number of vessels to 100, including three newbuilds currently under construction.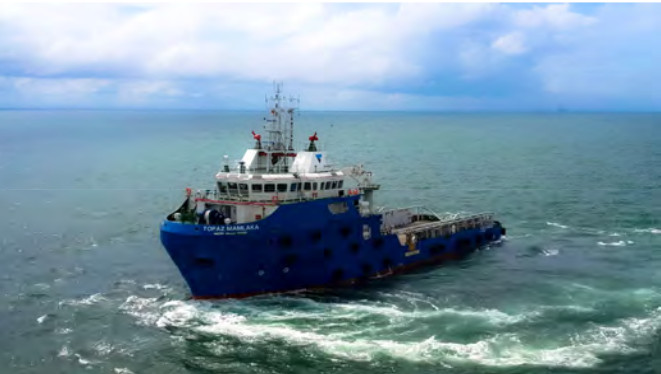 Image: berjaya dockyard
Mamlaka, which means 'Kingdom' in Arabic, is a 61.8 metres DP2 vessel built by Malaysian offshore shipbuilder Berjaya Dockyard. The vessel was acquired as part of a contract with an oil major in its key Gulf market and is currently in Dubai being prepared for deployment.
AHTS vessels typically perform services including anchor handling, towing offshore platforms, barges, production modules and vessels and supply services and account for around one third of Topaz's fleet. The addition of Mamlaka demonstrates how Topaz is optimising its fleet, focussing on core vessels which are more versatile and can address a wide range of its clients' needs.
About Topaz Energy and Marine
Topaz Energy and Marine is a leading offshore support vessel company providing marine solutions to the global energy industry with primary focus on the Caspian, Middle East, West Africa and Subsea operations in the North Sea and Gulf of Mexico. Headquartered in Dubai with 40 years of experience in the Middle East, Topaz operates a fleet of 100 offshore support vessels of an average age of seven years. Topaz is a subsidiary of Renaissance Services SAOG, a publicly traded company on the Muscat Securities Market, Oman.
Source: Topaz Energy & Marine