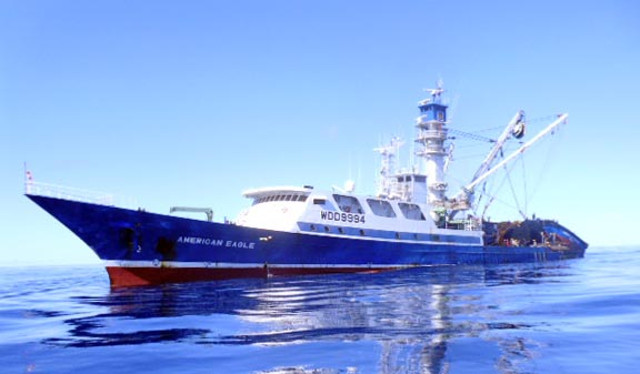 The U.S. Coast Guard responded to a report of 40 people abandoning ship after their fishing vessel American Eagle caught fire approximately 1,800 miles south of the Hawaiian Islands, Wednesday (Feb 10).
The Coast Guard issued an urgent marine information broadcast and launched an HC-130 Hercules airplane crew from Coast Guard Air Station Barbers Point.
Fong Seong 888, a Tuvalu-flagged oil tanker, which was en route transiting more than 90 miles to the vessel's location, was also expected to arrive on scene.
The 40 crew members aboard 258-foot U.S.-flagged fishing vessel abandoned ship at 10 a.m. (HST) yesterday into two life rafts, three work boats and one skiff.
An emergency position-indicating radio beacon was activated and was transmitting information.
Watchstanders at the Coast Guard Joint Rescue Coordination Center in Honolulu received notification from the vessel's company American Eagle Fishing LLC at 8:38 a.m. (HST) on Wednesday of a fire aboard the vessel.
No injuries have been reported.
Source: USCG