Cheniere has on Wednesday (Feb 24) shipped the long-awaited first cargo from its Sabine Pass liquefaction and export facility in Louisiana. This marks also the first export of LNG from the lower 48 states in the U.S.
Yesterday, the 160,000 cbm LNG carrier Asia Vision, owned by energy giant Chevron, was fully loaded with LNG and ready to depart from the facility.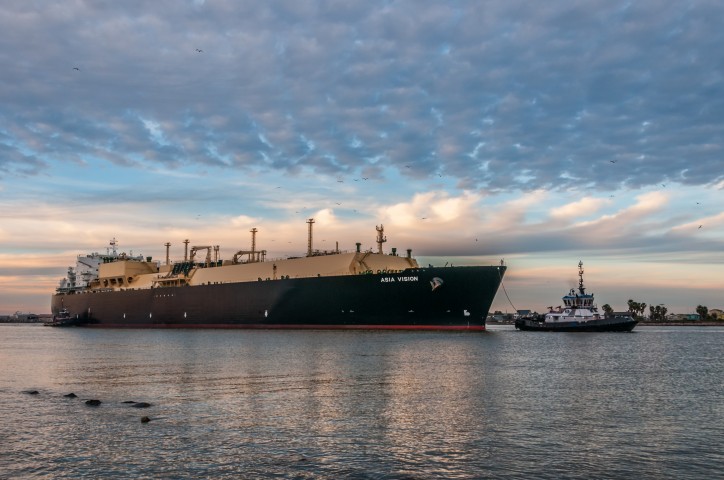 Image: Patty Brinkmeyer
In the next few days, Brazil's Petrobras will receive the first shipment, which equals about 96 million m³ of natural gas, to its regasification terminal in All Saints' Bay, Bahia, the Brazilian giant said in a statement.
Following regasification at the terminal in Bahia, the fuel will be pumped into Petrobras' network of gas pipelines to supply Brazil's domestic market, mainly for use in thermal power plants.
More U.S. LNG exports to come
The first commissioning cargo from the liquefaction and export facility in Cameron Parish was initially expected to occur by late January. The cargo was delayed due to instrumentation issues that were discovered during the final phases of plant commissioning.
Cheniere began producing liquefied natural gas from the Sabine Pass first train last week while loading operations began earlier this week following the Sunday arrival to the facility of the Asia Vision.
The Sabine Pass liquefaction facility is the first of its kind to export cheap and abundant U.S. shale gas to overseas markets.
Cheniere is building liquefaction and export facilities at its existing import terminal located along the Sabine Pass River on the border between Texas and Louisiana.
The company plans to construct over time up to six liquefaction trains, which are in various stages of development. Each train is expected to have a nominal production capacity of about 4.5 mtpa of LNG.
Commissioning for Train 2 at the Sabine Pass plant is expected to commence in the upcoming months, according to Cheniere.
Source: LngWorldNews