OVERVIEW
A total of three incidents of armed robbery against ships were reported in Asia in February 2016. No piracy incident was reported. Graph 1 below shows the number of incidents reported between February 2015 and February 2016. The number of incidents reported in February 2016 is lowest among the 12-months period.
Further, no incidents involving oil cargo theft was reported in February 2016,continuously from September 2015.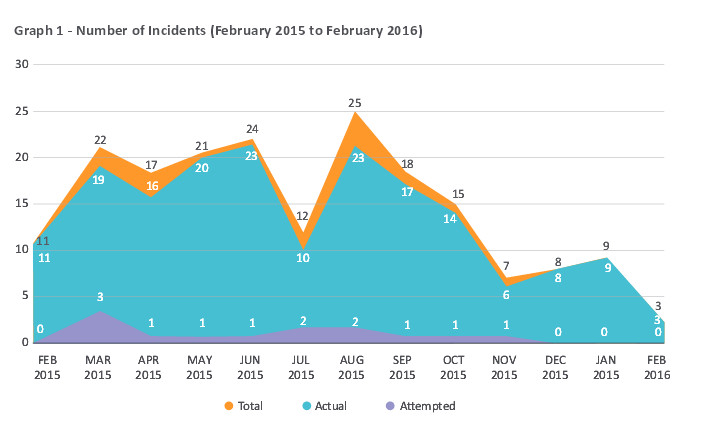 SIGNIFICANCE LEVEL OF INCIDENTS
All three incidents in February 2016 were Category 4 incidents, indicating that the incidents were opportunistic in nature involving perpetrators who were not armed and escaped immediately after realising that they have been sighted by the crew. Of the three incidents, one reported loss of stores and in the other two incidents, nothing was stolen.
LOCATION AND DESCRIPTION OF INCIDENTS
Of the three incidents reported in February 2016, two occurred on board ships while anchored in India (Tuna Buoy anchorage, Kandla and Haldia Dock Complex, Kolkata); and the third incident occurred while the ship was underway in the Gulf of Khambat off Gadhula, India. Please refer to Map 1 for location of incidents; and page 9 for the description of incidents.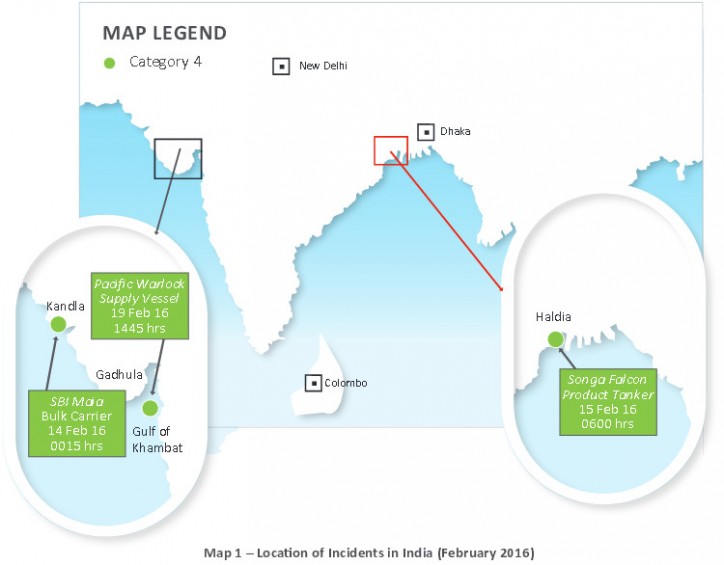 PROACTIVE ACTIONS BY INDIAN COAST GUARD (ICG)
In response to the increase in incidents at certain ports and anchorages in India since January 2016, the ICG had intensified its sea patrolling activities especially during hours of darkness. A total of six incidents had been reported in India in January 2016. The apprehension of a suspected boat on 22 Feb 16 along with all eight suspects demonstrates the determination and commitment of the ICG in clamping down such illegal maritime activities in the region.
Ship masters and crew are advised to enhance vigilance, increase security watch shifts and sound the alarm when suspicious boats are sighted in the vicinity or unauthorised boardings took place. Raising alarm and mustering of crew are effective in compelling the perpetrators to escape immediately as evidenced in one of the three incidents reported in February 2016. Immediate reporting to local authorities is essential for response. The ICG recommends that ship masters and crew to keep a listening watch on NAVTEX on frequency 518 KHz for updates on the situation.
REGIONAL GUIDE TO COUNTER PIRACY AND ARMED ROBBERY AGAINST SHIPS IN ASIA
The request for a regional guide to address the threats and concerns faced by seafarers operating in the Asian region was made at the 24th Asian Shipowners' Forum (ASF) Annual General Meeting (AGM) held on 18-20 May 15 in Jeju Island, South Korea. In response to that, the ReCAAP ISC led a working group comprising the Asian Shipowners' Forum (ASF), Federation of ASEAN Shipping Association (FASA), International Association of Independent Tanker Owners (INTERTANKO) , Oil Companies International Marine Forum (OCIMF), Singapore Shipping Association (SSA), Information Fusion Centre (IFC) and Rajaratnam School of International Studies (RSIS) jointly produced a guide for the region entitled "Regional Guide to Counter Piracy and Armed Robbery Against Ships in Asia." The group also reaches out to shipping companies, the IMO, regional authorities including the Malaysian Maritime Enforcement Agency (MMEA), experts in the maritime fields and like-minded agencies to solicit their inputs towards making the guide a comprehensiveness, all-encompassing and most of all, useful and relevant guidance for seafarers operating in the Asian region. An electronic copy of the Guide was launched on 17 February 2016 at a SSA's annual event. The e-copy of the Guide is available online at the ReCAAP ISC website www.recaap.org.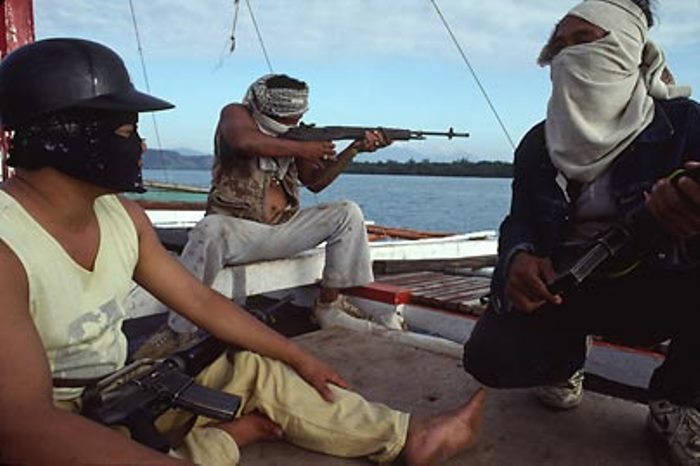 CONCLUSION
The situation of piracy and armed robbery against ships in Asia continued to improve in February 2016 with lowest number of incidents reported during February 2015-February 2016. Coupled with the decrease in the number of incidents was also a reduction in the severity level of incidents. Notably, no incident involving hijacking of tankers for theft of oil cargo had been reported since September 2015. Also, there was no report of unauthorised boarding in the Straits of Malacca and Singapore (SOMS) since November 2015.
However, more needs to be done at certain ports and anchorages in India where the port authorities along with the state marine police and relevant enforcement agencies need to enhance their surveillance; and ship masters and crew to maintain stringent watch-keeping while their ships are anchored/berthed there.
Whilst there has been improvement, consolidated efforts by the stakeholders at sea and on land to do their part towards apprehension and prosecution of the perpetrators are key towards clamping down this maritime crime.
Source: ReCAAP