The biggest car-transporting ship in the world called in Auckland Port earlier today. The Hoegh Trigger can carry 8500 vehicles, 1000 more than its predecessors.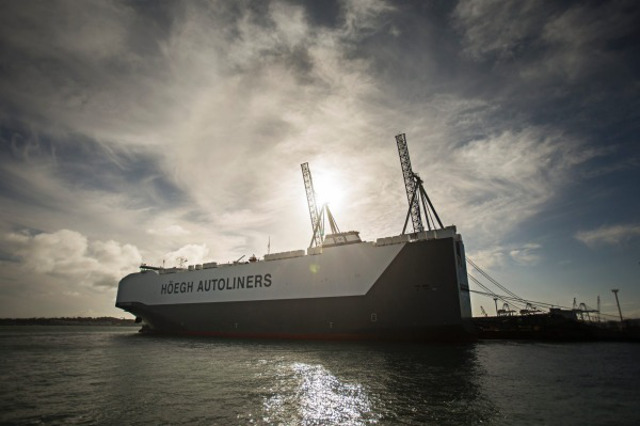 The Hoegh Trigger, the largest car transporter in the world, docked at the Ports of Auckland on Monday - Image: Chris McKeen
She isn't as long as some other car ships, but is taller and wider with a deck space equivalent to 10 football fields.
The Hoegh Trigger wasn't full when she arrived in Auckland, however. Her owner Hoegh Autoliners wouldn't reveal how much she was carrying but did say she delivered a variety of cars, trucks, motorhomes, agricultural machinery, buses and even a boat.
The Norwegian-registered vessel has a higher door opening than the shipping line's current vessels, enabling cargo up to 6.5m high and 12m wide to be loaded.
She is on her maiden voyage and is one of six bigger ships it is building.
Hoegh Trigger has travelled from Europe via South Africa and Australia, discharging loads to various ports as she made her way down to Auckland, one of her final port calls before returning to Europe via Japan.
The ship left at around 1.30 LT on Monday afternoon and will be a regular visitor to Auckland.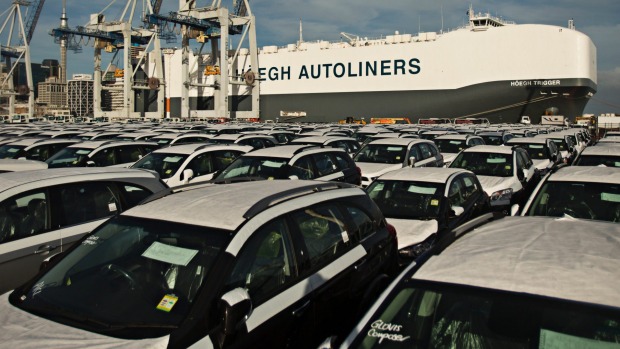 Image: Chris McKeen/Fairfax NZ
Around 250,000 vehicles are imported into New Zealand through the Ports of Auckland every year.
In 2015, 338.311 new vehicles were registered in this country, including used imports. There were 4.699m registered vehicles on New Zealand's roads as at the end of February.
Following the row last year over Ports of Auckland's plan to extend its cargo wharf Auckland Council commissioned a study to consider the port's long-term location. It is due to report in June.
Source: stuff.co.nz