- Transaction Includes Approximately $105M in Incremental Liquidity -
Eagle Bulk Shipping, Inc. announced on Wednesday (Mar 30) that it has reached an agreement with the Company's lenders and holders of approximately 75% of the Company's outstanding equity for a comprehensive balance-sheet recapitalization. The transaction provides Eagle Bulk with approximately $105 million in incremental liquidity, which includes a new second lien facility comprised of $60 million in new capital from existing shareholders, as well as new capital providers.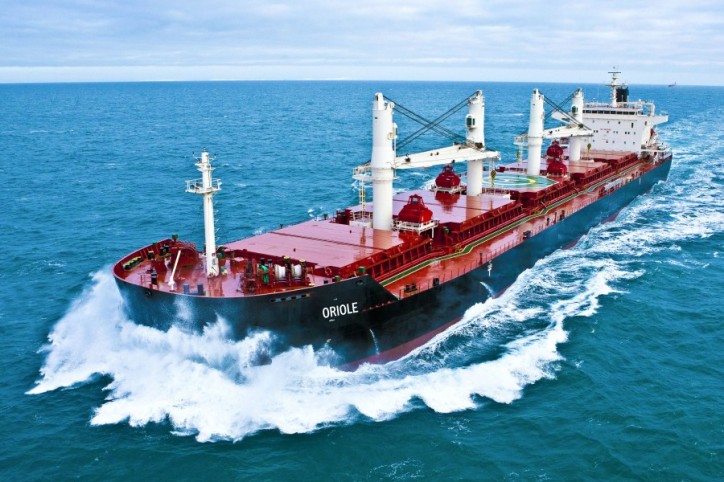 Bulk Carrier Oriole - Image: Eagle Bulk
Chief Executive Officer Gary Vogel stated, "We are very pleased to have reached this comprehensive agreement that strengthens Eagle Bulk's capital structure. The combination of additional liquidity and the enhanced financial flexibility it provides greatly improves our ability to persevere through the current market, and a new corporate structure will enable us to pursue market opportunities. It is, in short, a new foundation for long-term, sustainable success backed by strong support from our lenders and shareholders.

"With the completion of this transaction, we are now well-positioned to re-focus on Eagle Bulk's development as a world-class commercial and technical Owner/Operator with the objective to deliver premium value and results around our assets. We are grateful to our investors and our lenders, as well as to our employees and business partners, for their confidence in Eagle Bulk's long-term potential."
Additional transaction highlights include the following:
In addition to the $60 million of proceeds from the new second lien facility, Eagle Bulk will benefit from additional incremental liquidity through a $14 million permanent reduction in the Company's first lien minimum liquidity requirement, a deferral of more than $31 million in amortization payments through 2018, and renewed, full access to the Company's $50 million revolver.
Interest on the new second-lien debt is paid-in-kind and is payable in cash only upon loan maturity. In addition to receipt of this paid-in-kind interest, new second lien noteholders will be issued shares of common stock equivalent to 90% of the outstanding common stock of the Company after the issuance.
The transaction also includes changes to Eagle Bulk's organizational structure that will allow the Company to opportunistically pursue growth opportunities in the dry bulk market.
Source: Eagle Bulk Shipping