V.Ships, part of the V.Group, has entered into a partnership with Empros Lines to create a dedicated bulk carrier management cell in Greece. The cell will be staffed by the Empros' technical team and hosted in the Piraeus office of V.Ships Greece.
The partnership builds on the successful container cell established in 2013 with Costamare and further demonstrates V.Group's commitment to the Greek shipping industry. A steering committee formed of senior executives from both V.Ships and Empros Lines will oversee the cell's operations.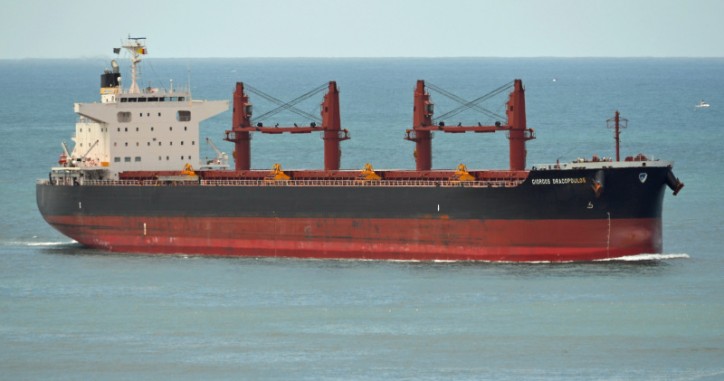 Bulk Carrier Giorgos Dracopoulos managed by Empros Shipmanagement Ltd - Image: Dave Leonard/Shipspotting
The bulk carrier cell is also extending its offer to third party clients who want to take advantage of the technical and cost efficiencies this proposition offers. It has already undertaken the technical management of two bulkers from different owners.
Empros Lines will continue to provide full commercial management for their owned fleet from their offices in Athens and will be available to provide such services to any third party clients joining the cell.
Clive Richardson, chief executive officer, V.Group said: "In a challenging market, ship owners and operators need innovative solutions and the success of the cell strategy, developed in partnership with Costamare, demonstrates the power of collaboration. In partnership we are able to offer the flexibility needed to maximise business opportunities in a cyclical market. Since initiating the cell model three years ago V. Ships Greece has attracted sixteen Greek clients, the full management of thirty six vessels and an additional fifty vessels for crew management."

George Makrymichalos, president, Empros Lines added: "We are confident the cell will combine the economies of scale, global presence and state of the art management systems of a professional ship manager with the extensive know-how and experience of a traditional Greek shipping company. Empros Lines will ensure that the cell vessels continue to be managed to the exacting standards demanded by a traditional Greek ship owner – ensuring our strong ethics and values are reflected in the services this platform will offer. We look forward to working and growing with our partners and promoting third party management services to the Greek shipping community."
Source: V.Ships