Rolls-Royce is responding to customer needs with its new UT 7217. The anchor handling tug supply vessel (AHTS) will lower build and operating expenses, while providing high flexibility and cost-efficient operations – no matter what role it is asked to fulfil.
The UT 7217 fits the general needs of the market around the world for a capable mid-range AHTS with a guaranteed bollard pull of 100 tonnes and plenty of capacity for liquid and powder cargo in the supply boat role.
Close attention has been paid in developing this vessel to reduce both building cost and operating expense without compromising quality or functionality. The full equipment package from Rolls-Royce is of high quality to ensure the UT 7217 can work reliably wherever it finds itself in the world. But the design is robust, providing the shipyard and vessel owner with the possibility of influencing the maker's list for major as well as minor equipment.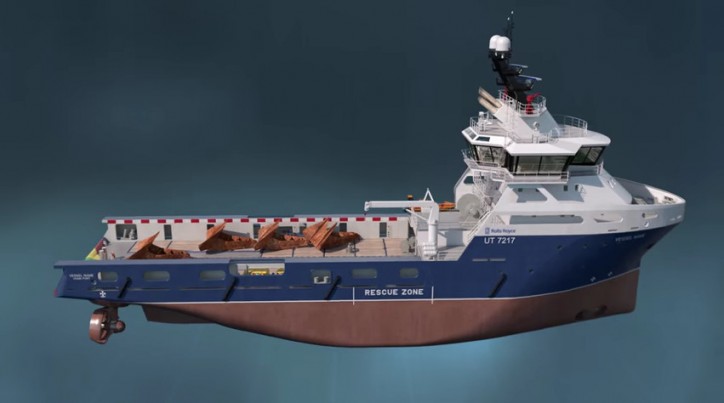 Introducing the new vessel design, Jan Emblemsvåg, Senior Vice President Ship Design & Systems, said: "The dramatic reduction in the oil price has forced both vessel operators and oil companies to trim their organisations and constantly look for more cost-effective ways of working, eliminating 'gold-plated' solutions.

"This applies to support vessels as well as equipment. Our UT 7217 is designed to meet the requirements of the future, which will be significantly different to the past.
The design includes SPS notation for enhanced flexibility, allowing the vessel to carry out a wide variety of tasks, from cargo supply, towing and anchor handling to remote-operated vehicle (ROV) and maintenance operations, with accommodation for up to 40 special-purpose personnel if required. If the OSV standard is selected, the complement is up to 40 people, personnel and crew, which includes a maximum of 12 passengers. An optimised hull form and propulsion and power system is designed for low fuel consumption and low levels of emissions. It meets the ENVIRO+ class level and may be further enhanced by installing an SCR exhaust gas cleaning system.
Simple and efficient
A simple but efficient propulsion system is based on two medium- speed Bergen C25:33L9P CD diesel engines, each producing 3,000kW. They drive through a direct mechanical transmission to US305 azimuth thrusters with 3.2m diameter CP propellers in nozzles. To give high efficiency over the full spectrum of operating modes, an advanced combinator is used to control both propeller pitch and engine speed over a wide range. Each engine also drives a shaft generator and fire pump for FiFi 1 class.
Electrical power is independently provided by two diesel gensets, each supplying 400kW. Among the consumers are two 590kW tunnel bow thrusters. The redundancy of the propulsion and power system meets IMO DP2 dynamic positioning requirements.
At the heart of the vessel is the main winch. A powerful and proven Rolls-Royce two-drum, low-pressure hydraulic winch is specified, with 200 tonne heave and 250 tonne brake rating. Each drum can hold 1,545m of 64mm wire, cable lifter pull is 155 tonnes at 8m/min, and there are large rig chain lockers.
A containerised launch and recovery system can be included for work and OBS class ROVs, enabling the UT 7217 to undertake inspection and maintenance work.
The vessel is also equipped for standby and rescue operations.
Safety and freedom from pollution is important, so the design provides protected locations for fuel oil tanks and those carrying hazardous liquids.
Ease and economy of construction is a key design consideration of the concept, making the UT 7217 a good choice for building at a wide variety of shipyards. The design minimises double curvature hull plating, and internal structures are suitable for panel line production. It also avoids the need for complex structures and piping arrangements.
The UT 7217 concept and Basic Design incorporates a Rolls-Royce equipment package. If the yard and owner agree to use the complete equipment package, the Basic Design is ready for class approval. Then Rolls-Royce will also be able to support the yard and owner in the detailed integration and interface of the vessel equipment and systems. But should operators have their own equipment preferences there is adequate flexibility in specifying for example other propulsion systems.
Source: Rolls-Royce