Company is country's first shipbuilder to face possible liquidation in recent years
South Korea's STX Offshore & Shipbuilding Co. has filed for receivership, in further evidence of the challenges facing global shipbuilders mired in one of the industry's worst slumps.
The filing with the Seoul Central District Court last Friday came just two days after its creditors discontinued providing a lifeline after years of financial assistance failed to keep the company afloat.
The court will soon determine whether STX Offshore should be liquidated or given a chance for survival after rigorous debt restructuring, the company said.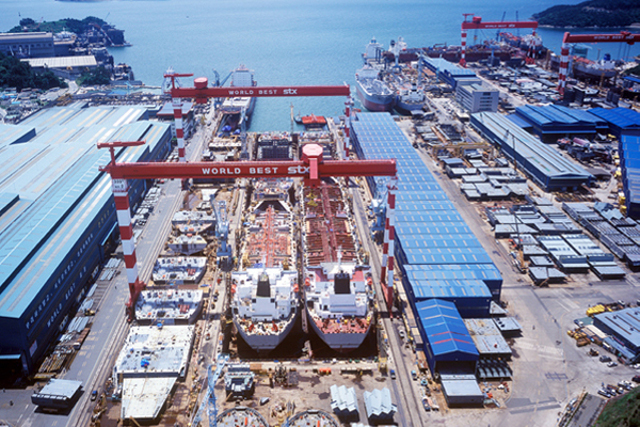 State-run Korea Development Bank, the company's main creditor, said Wednesday any additional bailout funds would do little to help the company while it struggles to get shipbuilding orders in its current situation.
STX Offshore, once the country's fourth-largest shipbuilder by revenue, has been under the control of its creditors since April 2013 after losing money from operations and amassing huge debt.
The creditors injected billions of dollars to bail it out, but it still ran a 314 billion won ($265 million) operating loss last year, following a 1.5 trillion won loss in 2014. The company owes financial institutions nearly 6 trillion won.
As a glut of vessels and low freight rates have created a financial nightmare for many shipbuilders, the Korean government said last month it would push for sector consolidation, particularly in the troubled shipbuilding and shipping industries.
Profits at Korean shipbuilders began sliding after the 2008 global economic crisis damped orders from shipping companies, and lower-cost Chinese rivals made market inroads.
The world's three largest shipbuilders, all Korean—Hyundai Heavy Industries Co., Daewoo Shipbuilding & Marine Engineering Co. and Samsung Heavy Industries Co.--are also staggering under heavy debt loads.
The Big Three ventured into offshore oil rigs starting around 2010 to avoid direct competition with shipbuilding rivals in China, where inexpensive labor could churn out low-profit tankers at cheaper rates.
However, a sharp decline in crude prices has prompted international oil companies to reduce their capital expenditure, resulting in fewer offshore and other projects for shipbuilders.
Analysts said they expected several smaller Korean shipyards to close in the near future, while larger rivals such as Hyundai Heavy benefit from sector consolidation.
"Korean yards, undisputed market leaders in the past 20 years, are talking about capacity reduction for the first time. Post restructuring, we expect to see some bigger shipyards enjoy enhanced bargaining power," said Citi Group analyst Ethan Kim.
Source: WSJ