Daewoo Shipbuilding and Marine Engineering (DSME) has won its first large-scale shipbuilding contract this year at POSIDONIA 2016, the international shipping exhibition, in Greece.
DSME announced that Maran Gas Maritime and Maran Tankers Management, units under Greece-based Angelicoussis Shipping Group, ordered two liquid natural gas (LNG) carriers and two very large crude (VLCC) carriers, respectively, on June 8 (local time). The deal is worth US$580 million (672.51 billion won), the largest shipbuilding contract won by a Korean shipyard this year. When DSME wins additional options of four vessels, the deal will be worth to US$1.16 billion (1.35 trillion won).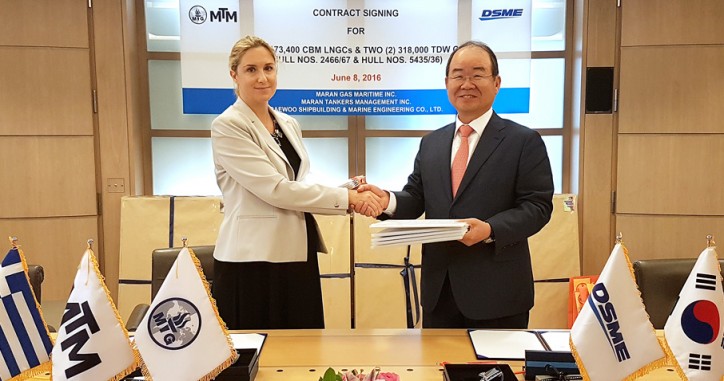 The vessels for the latest contract are the next-generation eco-friendly ships which meets the Tier III requirements of the International Maritime Organization (IMO) that apply to all ships built on, or after the 1st of January 2016, using DSME's state-of-the-art technology. Under the Tier III regulations, nitrogen oxide emissions must be less than 3.4 grams per kilowatt-hour.
With the length of 295 meters and width of 46 meters, the 173,400-cubic-meter LNG carrier is equipped with LNG powered engine (ME-GI engine) of DSME. Through the engine, it can improve the fuel efficiency by 30 percent and reduce pollutant emissions by more than 30 percent compared with existing LNG carriers.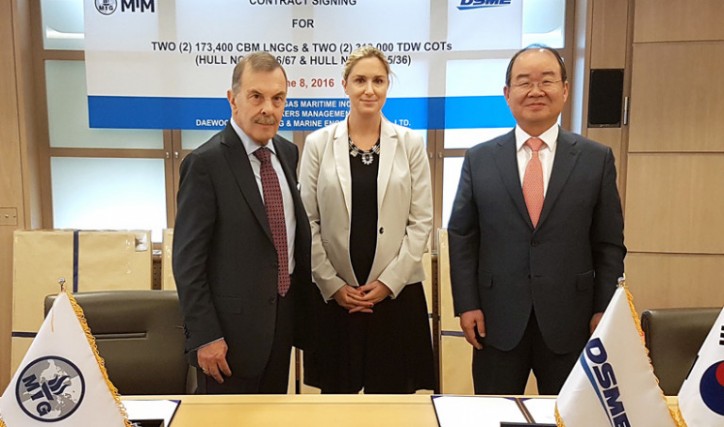 Daewoo Shipbuilding and Marine Engineering President Jung Sung-rip (right), Angelicoussis Shipping Group Chairman John Angelicoussis (left) and his daughter Maria Angelicoussis (center) pose for a photo after signing the shipbuilding contract in Athens, Greece
With the length of 336 meters and width of 60 meters, the 318,000-ton VLCC features a high efficiency engine and the latest fuel reduction technology. DSME is slated to deliver LNG carriers by the end of 2018 and VLCCs by the first half of 2018.
After conducting business with DSME since 1994, Angelicoussis Shipping Group has ordered 88 vessels from DSME, including the latest deal, and 21 of them are under construction at its shipyards in Okpo and Romania.
Source: Business Korea