The port of Liverpool will offer container weighing services to help its customers comply with a new international regulation that comes into effect on July 1.
The announcement by Peel Ports, Liverpool's owner, has extended weighing services across almost the entire U.K. waterfront in response to an amendment to the International Maritime Organization's Safety of Life at Sea, or SOLAS, convention requiring the weight of all export containers to be verified before being loaded onto a ship. The rule was passed in an effort to prevent maritime accidents in which misdeclared or overweight containers play a role.
Peel Ports said its container terminals at Greenock, Scotland and Dublin, Ireland's largest port, will also be able to weigh containers prior to loading.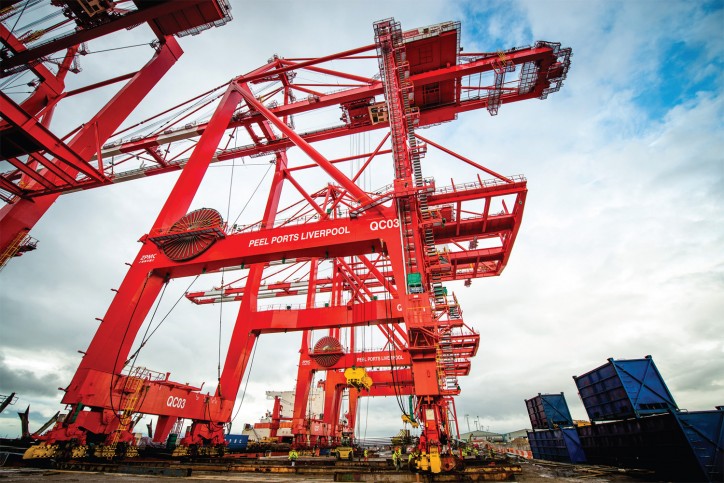 Liverpool is installing dynamic axle weighbridges at terminal truck gates linked with the port's terminal operating system that will automatically provide a verified gross mass for the container.
"This is arguably the biggest challenge to face the container shipping industry and the right approach for cargo owners and shipping lines remains a hotly disputed topic even this close to the deadline," said port director David Huck.

"While ports have no obligations under the regulations, we have chosen to invest significantly in a solution to support the entire logistics community, which will help reduce costs, risks and delays for our customers."
The port said it has held extensive discussions over the weighbridges and processes with the Maritime & Coastguard Agency, the U.K. regulator responsible for the new rule.
Shippers will be charged 19.50 pounds ($27.50) for each container weighed at Liverpool and Greenock and 23 euros ($26) at the Dublin terminal.
Liverpool's preparation for the SOLAS regulation coincides with trials ahead of the opening of a new 300-million-pound terminal — Liverpool 2 — slated for October.
The new facility, which has an annual handling capacity of 1 million twenty-foot-equivalent units, is at the heart of the port's bid to win back traffic destined for northern England that currently passes through the southeastern container hubs of Felixstowe and Southampton.
The port, to which Maersk Line recently returned after a 10-year absence with the launch of services by Seago Line, its European short-sea unit, is aiming initially to boost its deep-sea traffic with North and South America.
The U.K.'s leading terminal operators have all installed container weighing facilities, easing shippers' fears of supply chain disruption in July.
DP World has installed weighing solutions on its automated stacking cranes at London Gateway and onboard its straddle carriers at Southampton. The service at London Gateway and Southampton will cost 17.50 pounds.
Felixstowe, the U.K.'s largest container port handling over 4 million TEUs annually, will weigh containers arriving by both train and truck. The port will charge 21 pounds for VGM generation.
Forth Ports will offer weighing services at the Scottish port of Grangemouth and at the London Container Terminal in Tilbury.
Source: JOC