U.S. Coast Guard Cutter Seneca is scheduled to return to its homeport in Boston, Saturday following a 68-day deployment to the Pacific Ocean.
The Boston based cutter transited through the Panama Canal and spent several weeks combating transnational crime in the Eastern Pacific Ocean with a deployed armed helicopter from the Coast Guard Helicopter Interdiction Tactical Squadron.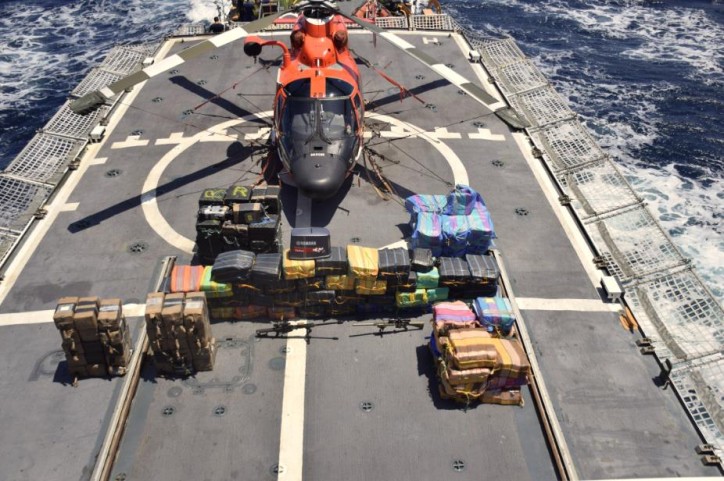 A Coast Guard Helicopter Interdiction Squadron MH-65 Dolphin helicopter and bales of intercepted cocaine on the deck of Coast Guard Cutter Seneca, Monday, June 6, 2016, in the Pacific Ocean.(U.S. Coast Guard photo)
Seneca intercepted five smuggling vessels carrying cocaine from South America bound for the United States, including the first of a new type of Low Profile Vessel interdicted by U.S. forces in the Pacific.
Low Profile Vessels are unique in that they are fully enclosed, camouflaged and specifically designed to smuggle large quantities of narcotics by decreasing their probability of detection.
The interdictions during this patrol resulted in the apprehension of 15 suspected narcotics traffickers and 4.6 tons of cocaine with a street value of $154 million dollars.
This was the third deployment Seneca has made to the Pacific in the past year.
Coast Guard Cutter Seneca is a 270-foot Medium-Endurance Cutter that was commissioned in 1987. Nearing its 30th year of service, Seneca and the other 26 aging medium endurance cutters are slated for replacement by the new Offshore Patrol Cutter.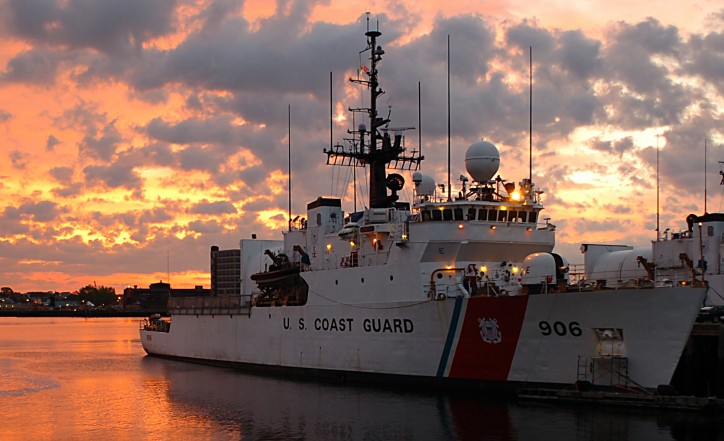 USCGC Seneca (WMEC-906) - Image: Wiki
Source: USCG