Hyundai Merchant Marine Co., one of South Korea's major shipping lines, has entered negotiations to join the world's largest shipping alliance as it struggles to survive an industry slump.
The move to join the 2M alliance comes as the flagship unit of the Hyundai Group is reeling under 5.2 trillion won ($4.48 billion) in debt after losing money for several years. The state-run Korea Development Bank and other lenders have threatened to put it under receivership if it fails to lower its debt, cut charter rates and join a global shipping alliance.
Falling demand from China, Europe and emerging economies has pummeled the global shipping industry in the past few years. Freight rates for container and dry-bulk vessels are well below operating costs, and several shipping companies have filed for protection or folded outright.
"2M has wanted to enhance its influence in the Asian region. And we want to raise our presence in Asia-U.S. routes. Both sides will benefit from a successful deal," Hyundai Merchant said Thursday.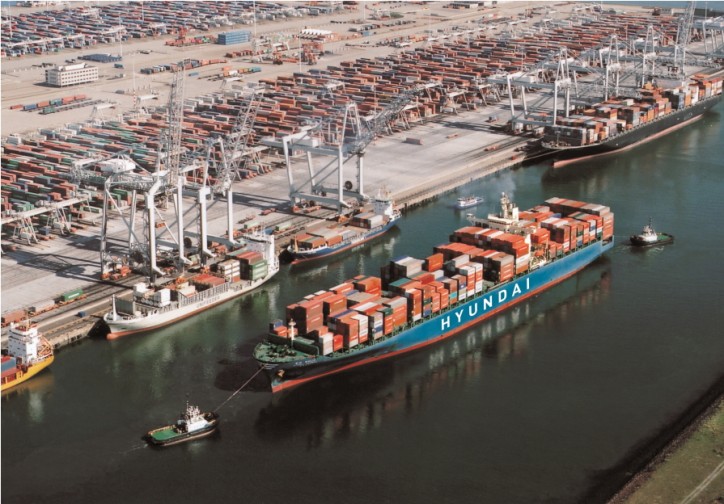 The 2M alliance, made up of Maersk Line, the A.P. Moller-Maersk A/S shipping unit that is the world's biggest container line by capacity, and No. 2 carrier Mediterranean Shipping, controls about a third of the Asia-Europe trade route, the world's most lucrative.
Hyundai Merchant has been left out of a new global shipping alliance formed recently by six Asian and European container-shipping operators to challenge the dominance of global giants such as Maersk Line and Mediterranean Shipping. Hyundai's Korean rival, Hanjin Shipping Co. is part of the six-member group, called "THE Alliance."
Hyundai has been in talks to join the latest shipping alliance, but little progress has been made.
A Hyundai spokesman said the company will end talks to join THE Alliance to focus on negotiations with M2 members.
Being part of an alliance has become imperative for those in the industry, which is marred by a 30% oversupply of vessels in the water as well as rock-bottom freight rates. Alliance partners share ships, networks and port calls that cut their costs by hundreds of millions of dollars annually.
Earlier this month, Hyundai cleared one of the highest hurdles it faces in its efforts to avoid bankruptcy by slashing the rates it pays to owners of its chartered fleet.
The company said at the time that it has obtained an agreement from foreign containership owners to cut charter rates over the next 3 1/2 years by around 20%.
Hyundai currently pays close to $1 billion a year in charter fees for 83 vessels leased from independent overseas shipowners. It operates a total of 116 vessels.
Source: WSJ