Indonesia's foreign minister said on Friday a halt on coal shipments to the Philippines will continue until Manila guarantees security in its waters after seven Indonesian sailors were taken hostage, the latest in a string of abductions.
Indonesian authorities are concerned that piracy in the Sulu Sea area, a major sea traffic corridor for the world's top thermal coal exporter, could reach levels previously seen in Somalia.
In April, the Indonesian Navy instructed all commercial vessels to avoid piracy-prone waters around the southern Philippines.
Analysts say $40 billion worth of cargo passes through those waters a year, including supertankers from the Indian Ocean that cannot use the crowded Malacca Strait.
"The Indonesian government has decided that the moratorium on coal exports to the Philippines will be extended until there is a guarantee for security from the Philippines government," foreign minister Retno Marsudi told reporters.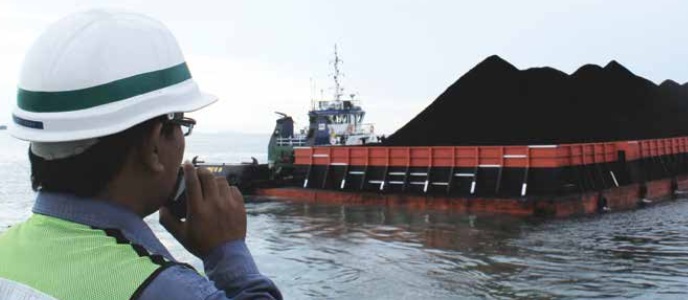 Indonesia supplies 70 percent of the Philippines' coal import needs, which Indonesian data shows stood at about 15 million tonnes, worth around $800 million, last year.
Alarmed at the frequency of attacks, port authorities in some areas of Indonesia, particularly Kalimantan on the island of Borneo, have stopped issuing permits to ships taking coal to the southern Philippines.
Philippine officials said the government had been working to address piracy in the south and that coal importers could tap other suppliers.
"There will be additional transportation costs if the coal will come from Australia or Russia so that means additional costs ... will have to be passed on to power consumers," said Rino Abad from the Philippine department of energy.
Marsudi said earlier that seven Indonesians had been kidnapped by two different armed groups in attacks on a tugboat towing a coal-carrying barge.
"The government will try all options to free the hostages," she said. Authorities were working to verify whether the kidnappers belonged to Philippine militant group Abu Sayyaf.
Up to 18 Indonesians and Malaysians were kidnapped in three attacks on tugboats earlier this year in Philippine waters by groups suspected of ties to Abu Sayyaf. All 14 Indonesian citizens were later released.
The Philippine military has said the militants have been targeting foreign crew of slow-moving tugboats because they can no longer penetrate resorts and coastal towns in Malaysia's eastern Sabah state due to increased security.
The rise of sea hijackings prompted Indonesia, the Philippines and Malaysia to agree last month to carry out coordinated patrols to secure the region's busy waterways.
However, coordinated patrols are yet to get underway.
Abu Sayyaf, known for amassing tens of millions of dollars from kidnappings, has beheaded two Canadian nationals in recent weeks after ransom deadlines passed. It is still holding Malaysian seamen and Japanese, Dutch, Norwegian, and Filipino citizens.
Source: Reuters