Royal Australian Navy patrol boat HMAS Wollongong has assisted in the apprehension of two foreign fishing vessels, believed to be Vietnamese, in waters off far North Queensland for suspected illegal fishing on 21 June near Dianne Bank.
Maritime Border Command within the Australian Border Force, made the apprehensions in a coordinated effort with the Australian Fisheries Management Authority.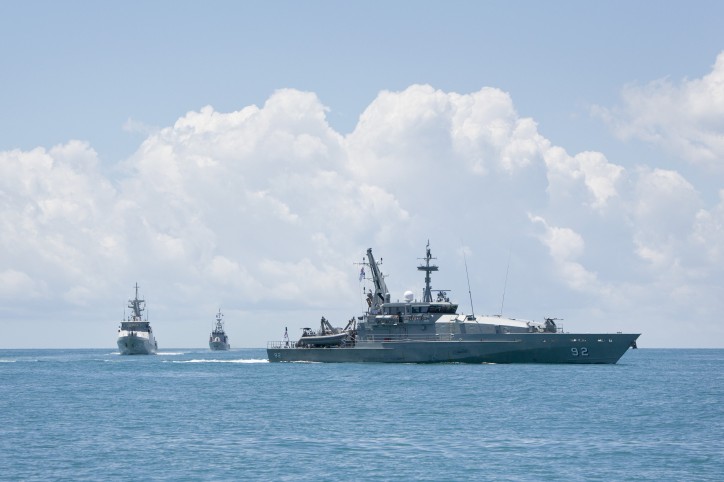 Armidale Class Patrol Boat HMAS Wollongong - Image courtesy: Royal Australian Navy
Australian Navy patrol boat, HMAS Wollongong with Australian Defence Force, and Fisheries Management officers embarked, responded and inspected the vessels.
During the inspection, officers found diving gear to support multiple teams of divers, approximately 8.7 tonnes of bêche-de-mer, a quantity of turtle meat, and coral and reef fish suspected to have been caught illegally.
Twenty-six crew members believed to be Vietnamese nationals have been detained and were escorted to Cairns, where further investigations will be undertaken by Fisheries Management staff.
A vessel of interest is boarded at dusk via Rigid Hull Inflatable Boats (RHIB) from HMAS Wollongong - Image: Royal Australian Navy
General Manager Fisheries Operations, Peter Venslovas, said as regional governments crack down on illegal, unreported and unregulated fishing, Australia's well-managed fisheries become enticing for illegal foreign fishing.
"Australia's fisheries are some of the best managed in the world and illegal, unreported and unregulated fishing undermines both the economic and environmental sustainability of our marine resources," Mr Venslovas said.

"AFMA remains committed to working with Commonwealth agencies to protect our fisheries."
Commander Maritime Border Command, Rear Admiral Peter Laver said that the apprehension of these vessels should serve as a warning to illegal foreign fishers that this behaviour will not be tolerated in Australia's waters.
"Maritime Border Command officers and those from our partner agencies, are committed to protecting Australia's waters from illegal fishing activities. These people should be aware that we have the resources, technology and the capability to find and stop them," Rear Admiral Laver said.
These latest apprehensions follow two Vietnamese vessels and 30 crew apprehended at the beginning of the month for suspected illegal fishing on Lihou Reef in the coral sea, and convictions in May of four Indonesian fishers for illegally fishing for shark fin in Australia's northern waters.
Source: Royal Australian Navy